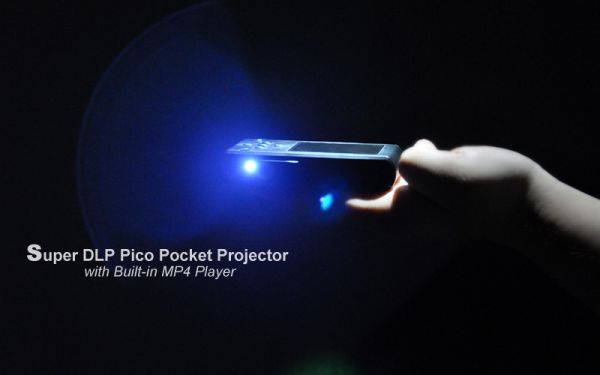 Ever seen a projector with the state-of-the-art, fully capable MP4 player? This innovative product is exactly the same. Packed with multitude of features and functions, the new Super DLP Pico Pocket Projector oozes a lot of style and is perfect tool for both work and play. What an outstanding way of keeping both business and pleasure well balanced! The MP4 player features a 2.4 inch display, which plays most of the movies, video clips and image slide shows with amazing clarity and smoothness. Just press a single button to project whatever is playing on the 2.4 inch screen on a larger screen on wall.

The DLP Pico Chipset, provides this projector an incredible 1000:1 contrast ratio, which ensures that images are as clear and crisp while they are projected on a wall as they seem on the on-board display. The state-of-the-art DLP projecting technology gives it a clear edge over other LCD projectors. It offers a better retention of color saturation, which in turn makes sure that the original quality of image is preserved as it is, even during extended periods of usage.
Although an add on to the device itself, the MP4 player easily rivals the best in business. The vibrant, yet distinctive spread of colors on the 2.4 inch display breathes life into any image. The built in speakers, produce a rich sound, reproducing each frequency with amazing clarity and detail. Best suited for designers, public speakers and business people who have to give presentations on the go, this multitasking device certainly reduces a lot of payload. It is the perfect option for those who are seeking a replacement for a big heavy LCD projector, a DVD player and speakers. With so many features included in one place, one really wants to believe in saying that good things come in small packages.
Via: Chinavasion