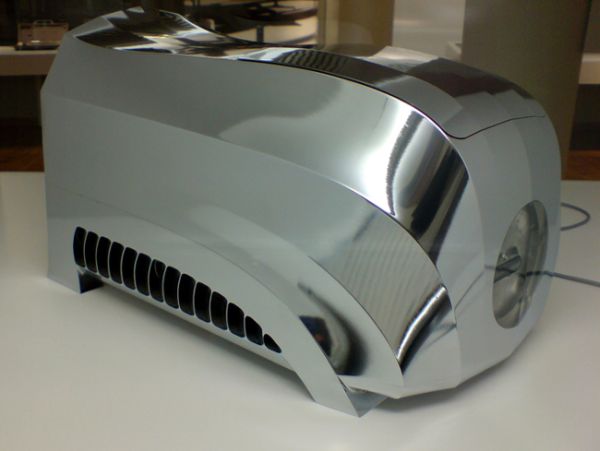 Having a computer isn't really enough for some people. Case modders or people who design computer case modifications, prefer their computer to be quirky and be a manifestation of their personalities rather than just being a drab metallic box lying in the corner. In fact they are so enthusiastic about the case mod design that they leave no stones unturned to get to the design of their choice. One such case is Besi who has designed this Insane DynamicH20 shuttle case mod out of his deep passion for the Shuttle XPC SN95G5V2 ITX case.

Besi dedicated about 400 hours to get this shuttle designed case mod to suit his specifications. This weird work of geeky art has transformed the case into a gaming space shuttle to infinity and beyond. The ITX mainboard is borrowed from the Shuttle xPC SN95G5V2. Furthermore, it has been fitted with customized cooler Master Cross Flow Fan STF-B01-E1 on either side of the chassis that cools the 240 radiator with a cross-flow cylinder fan. To match this, AGP riser card of 2.16 inch height has been included that acts as a transparent adapter and allows this curious case with high-end graphics controllers with no loss of performance or features. To bring in further credibility to the case, Besi adds a tailored water pump impeller, Computer Numerical Control (CNC) milled, with a diameter of 80mm and height of 13.65 mm.
The shiny body was embellished with metalizing or vacuum plating an ABS plastic shell. The top of the case has been designed as a retractable lid to accommodate the Sony CRX830E Combo DVD-Re-Writer SLIM SFr. As quirky as it could get, the modder then went ahead and attached a 240mm size radiator in the floor of the customized chassis. Powered by 28263 AMD Athlon 64 3200 + – boxed – 90mn (Venice) , HIS Excalibur Radeon X800 XTPE Platinum, 256MB DDR3 RAM it also includes 3.5 inch IDE adapter to drive slimline CD / DVD.
Via: MNPCTech