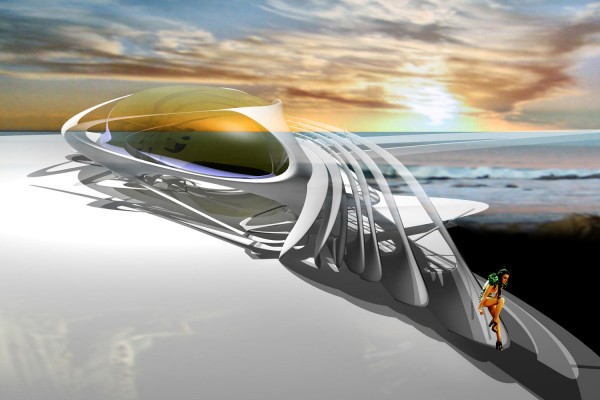 Margot Krasojevic, famous for her unique spatial approach to designing and industrial planning, has created yet another architectural marvel in the form of the Infinity Pavilion beach house. Located out of Cape Town's famous beach, the Llandudno Beach, her beach house appears futuristic and bizarre. But on inspecting the structure closely, one realizes and respects the designer's rationale behind the structure.
Since the topography of the beach in question consists of cliffs and mountains made of huge granite rocks, the designer has chosen to set up her beach house on one of the many cliffs overlooking the town. This does two things. First, it promises a great view and second, it helps her structure blend in with the natural surroundings. Once inside the structure, you realize it is designed not for the fainthearted but for the thrill seekers.
While the floor plan is one of open accommodation, it is not simply that, as the inside area also features a number of vivid angular arcs and forms, which serve the sole purpose of reminding you of the precarious nature of the house. To build this unique beach house the designer has opted for the sand blasted variety of structural steel and used the same to suspend the main living zone, and also to create sections within the house.
The open accommodation plan again offers two advantages, of providing full privacy and a splendid ocean and beach view. Interestingly, the designer welcomes the swimming pool into the main living zone, and in fact uses it to her advantage by making it connect the outside with the inside of the Pavilion.
But the USP of this beach house is undoubtedly its unique futuristic pod like structure which is made of dichroic glass. The structure has embedded within it a strong, sturdy reinforced mesh made of steel that supports it and envelopes the living area. This mesh again offers a beautiful view of the Atlantic Ocean. Lastly, the designer has projected a cantilevered walkway from the face of the cliff, for those evenings when you might want to enjoy a horizon sky walk or gaze at endless scenic beauty.
Via: eVolo