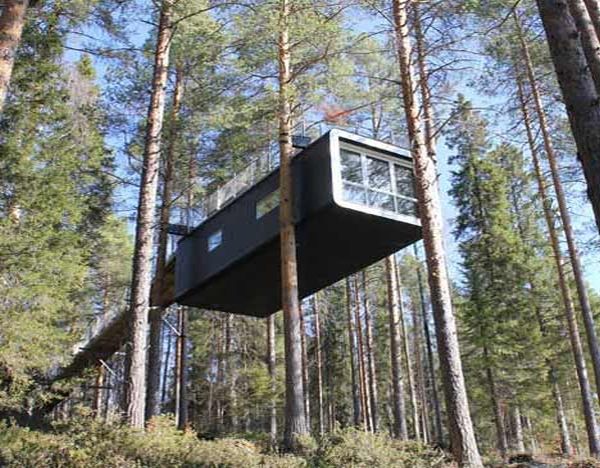 If living on a tree top hotel sounds like a splendid vacation idea to you, then Tree Hotel in Harads is an apt destination. Cyren & Cyren have
established a benchmark in hotel architecture with their designing of the first five rooms for Tree Hotel in Sweden.

Located in Northen Sweden, the Tree Hotel cabin hangs from the trees and lends a scenic view from the roof top. The site has been chosen carefully to provide just the right angle for the picturesque view of Lule River. This has been accomplished by choosing a high ground with steep slope. The hotel is made accessible through a bridge, which opens in the forest and leads to the roof of the cabin. The footbridges have been incorporated in the design to allow for future expansion.
The deck largely draws its shape from the way the trees are structured. Nevertheless, the architects worked further on the deck playing
around with different angles and circling at corners. This ultimately made the deck capsule shaped. This design lends uniqueness to the building with the cabins looking smaller and building as a whole acquiring a different shape. The exteriors too have been handled tactfully with the use of engineered fabric on lorries and trailer covers.
Situated 40 miles south of the Arctic Circle, the Swedish Tree Hotel now stands with six splendidly designed rooms suspended in the branches of the Pine tree forest. The plan is to complete a 25 room structure. The cabin designers Cyren & Cyren have indeed lived up to their motto of constructing a structure in line with the basic construction idea, but at the same time adding excitement to it and making every design new and unexpected.
Via: Treehotel