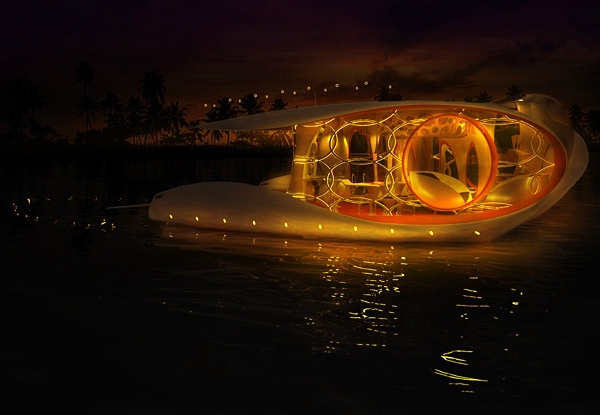 Tofi is a yacht concept that was designed by Hyun-Seok Kim. This yacht won first place in the 2011 "Dreamboat" Millennium Yacht Design Award contest. Tofi is like a real floating home, as it is provided with all the functions and features of a house.
Tofi is provided with two bedrooms, a shower, bathroom, kitchen, two salons (one on the roof and one at the base), a terrace with a small playground with benches, tables and a barbeque grill, a guest room, and a narrow diving board situated at the end of the roof.
This yacht has a small round hole at the base, so you can sit in the room and do fishing in all climates. The terrace of the Tofi is made from wood, which remains stable even in bad weather. The interior of this yacht is finished with rubber and the transparent wall is made from clear glass, which lets you watch the beautiful scenery of the sea.
Tofi is really a futuristic yacht. It is designed to offer maximum comfort and pleasure to travelers who wish to explore the wonderful waters. Tofi will be an inspiration for several advanced futuristic marine transports.
Via: Trendhunter