One thing to remember when designing your living area is that you have to be comfortable in the room and like the style since you will most likely be spending a lot of your time in the room.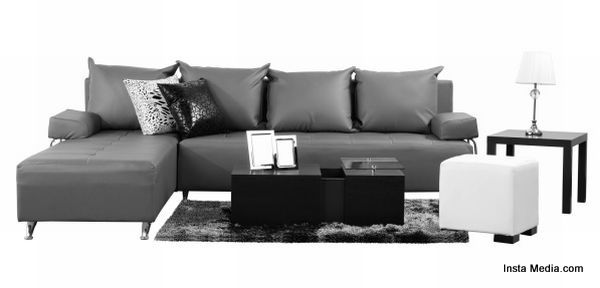 Choosing Furniture For Your Drawing Room
Pay attention to the visual weight of furniture, not just its actual size. Light-color furniture or pieces with legs appear lighter than dark or boxy upholstered pieces.
In this small living area, the leggy chair doesn't obstruct views of the passage or the floor, so the space feels more open. The metal and glass coffee table also consumes very little visual space. Using a neutral palette throughout a living room is one of the best ways to push back the walls. The eye can roam freely through a neutral palette, so the space feels more expansive. Stick with neutral sofas, armchairs and ottomans and go bold with accessories that way, you can easily swap out the small things when a new color scheme is in order. Picture frames, rugs, throw pillows and curtains are all great for adding color, while mirrors, table lamps and ceiling lights can help light flow throughout the space. Hang colorful contemporary artwork on the walls, and even add an accent wall by choosing a trendy new paint color.
Because this room serves many purposes, be sure to incorporate plenty of shelves, cabinets and drawers to accommodate all your goodies. While more expensive, built-ins are the best way to do this, since they take up less space and are often customized to meet your needs. A built-in entertainment center is great for housing your TV, movies, video games and small electronics, while bookcases keep your books, picture frames and knickknacks in check. A desk, booth or large table can act as a craft station or homework spot, while a window seat can quickly become your go-to reading or nap station. Carve out a quiet moment in your living room to entice a little reading time.
Summary
The living room is the most popular place in a house for the entertainment of guests, and where families come together to end their day, relax after a long workweek or to enjoy a television program together. In most cases this room is on the main level of a home and sees a lot of activity. That is why it is important to choose the right kind of furniture.