A sketch reportedly released by Nokia shows a smart watch along with other devices. This has led to speculation that the first device the company could release after its purchase by .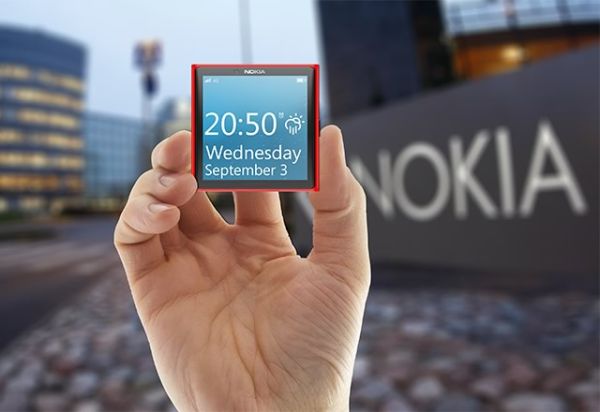 Nokia Lumia Watch
The sketch shows crudely drawn smart phone and a watch. Nokia already has a Lumia series of smart phones. The smart phones lineup has so far not been able to break the domination of the two smart phone giants Samsung and Apple. The series does however have some fans in the market and is expected to continue. With many companies including Samsung and Apple launching their smart watch devices in the near future, analysts believe that a new smart watch from Nokia and Microsoft is not too far off.
The device minimizes the design of the typical Lumia and it's the basic square wrist accessory with touch screen included. The Nokia Lumia Watch packs a pressure indicator, compass, altimeter, GPS, calorie meter, 4G LTE and a waterproof case. There's also the ability to sync the device with Lumia series handsets.  From what I see this watch runs some version of Windows Phone, too.
The watch seems to have a front camera and it comes in the bright colors of the Lumia series. It's not very clear what the belt of the concept watch looks like, but I suppose that it's either metal or leather, or maybe a human-friendly plastic that doesn't harm you. An even more outlandish idea is that each of the segments would contain a display tailored to a specific function — and by turning the device around, you'd be able to access and use whichever was pointing upward.
The advent of the smart phones and Nokia's inability to retain its dominant position has put the company on a path to innovation once again. Microsoft is also facing problems due to the use of iOS or Android in the Apple and Samsung devices, instead of windows. According to analysts there could be a future threat to Windows software as well. The company has two choices, say analysts, either to compete in the cut throat smart phone market with lower prices and better features or explore new avenues for growth.
Summary
Plenty of companies have been thinking around with the idea of wearable tech, but Nokia's always offered up some of the most eye-popping concepts. A modular watch that you can customize to your heart's content.