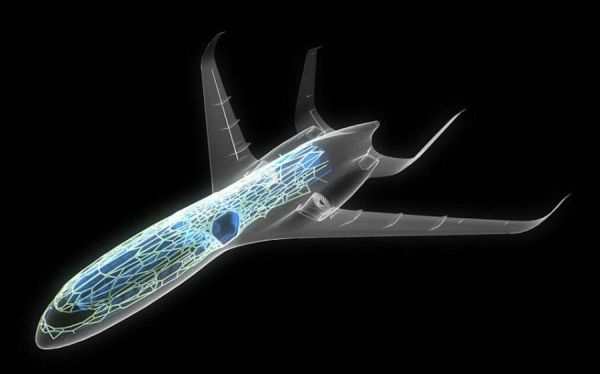 Do you frequently travel by air and always ask for a window seat? Well, if flying in the clouds is what you like then hold your breath as Airbus has plans to leave you in a state of awe. They are out with a futuristic concept, which will be a transparent plane. Yes! You read it right. It will have a see-through cabin to enjoy a picturesque view that will leave travelers enchanted. The concept was recently made public in London.
The concept cabin has been designed for the year 2050 and will be enveloped with an ingenious wall membrane. This will have power over air temperature, and when needed, will turn transparent. The walls will alter in behavior as per the available light conditions. Enjoying a good read under the rays of sun and clouds will be a reality soon.
It will also make your dreams star(y) when dusk sets in. A blanket of stars above will force you to slip in a dream world and will be an experience to cherish. The seats have been crafted in a way that will adjust according to the body shape of a passenger and not the other way round. This will ensure complete comfort and will help unwind as well.
The inside of this transparent skin will come injected with hi-end technology. It will be a storehouse of entertainment and interactive games, which will use the heat generated by a passenger's body. This is something new! Imitating the competence of bird bone will be the bionic structured concept. It will come packed with all the facilities that will help soothe those tensed nerves. Having an urge to enjoy a game of golf while traveling? Well, you might be able to do that virtually once inside the airplane.
It will bow down to all the needs and entertainment demands of a traveler. The airplane has been divided into a few zones that will take care of its passengers in an intelligent way and also swap conventional cabins. The "vitalizing zone" will come packed with aromatherapy, acupuncture, mood lighting plus vitamin and anti-oxidant rich air, which will calm you instantly. The "smart tech zone" is a customized area that will offer a range of luxury services as per needs of a passenger.
This is also called the "Chameleon style offering" as will flip from one need to the other as per the user's whims and fancies. There is another area called the "interactive zone" that will have virtual projections popping-up when commanded. They will make active shopping a reality even while flying and one can also enjoy holographic gaming here.
The futuristic concept, with such amazing facilities, will take care of the environment as well. It will cut down on waste, noise, emissions and excessive fuel burn for a better living. The transparent ride will take you sky high from where you will never want to come back. It will feel like a royal dream and will help you discover the deep blue skies that was till date a reverie.
Via: DailyMail