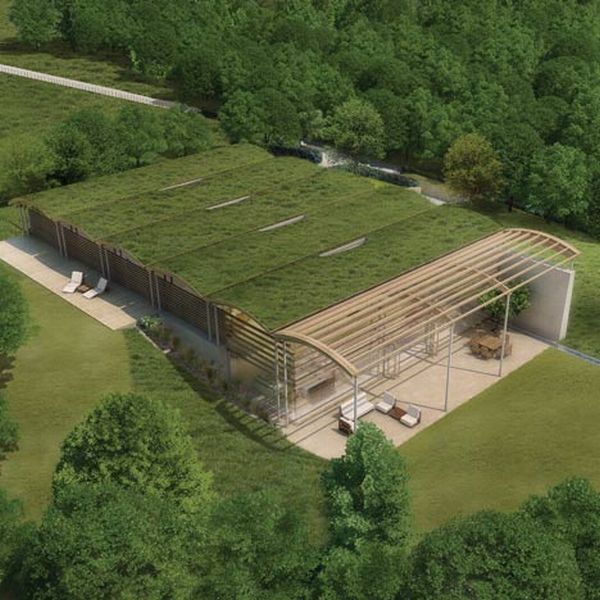 Redundant water tanks are typically of no productive use except conversion into scrap metal and plastic for resale. But a Manchester-based architecture firm, Ian Simpson Associates, have managed to create a series of houses by joining together water tanks, Bernacre Equilibrium Tanks, that were deemed redundant and without alternative use.
Built at an elevated site near Gatsang, North Lancashire, the adjacent water tanks were converted into brilliant modern housing with low carbon print and other ecological benefits. The roof top of the housing project is lush green with fully glazed front elevations and roof lighting. A proposal of converting many such homes will later be submitted by the architecture firm to Brickshop Properties, a real estate firm in the area. Available in two formats, these homes will have options of a 6 bedroom apartment and also a 2 bedroom holiday home which could then be used to give a boost to the local economy by the influx of tourists in the time to come.
The setting of these homes are in the middle of a picturesque landscape, with lush-green surroundings and a view of the sea nearby, which gives a very welcome break to the people of the city, who are used to living in concrete jungles. Also, the innovative energy management systems in these homes will ensure low carbon footprint without compromising on quality of living. Solar panels and heat pumps form the primary energy sources of these housings, and its unique design ensures thermal insulation and temperature control for those staying in these establishments.
Also, from the ecological standpoint, the use of cement has been significantly reduced, which is one of the main pollutants in modern times. Since these tanks were ready made structures, the need for new stock of cement was bought down significantly and most of the construction was created out of the existing structure.
With the concept of modern design and aesthetic appeal, along with ecological benefits in establishments such as these, it is a significant step towards reducing carbon footprint in areas of heavy industrialization. With issues like global warming gaining greater significance today, such modern concepts are a model for developing nations as well.
Via: Deezen