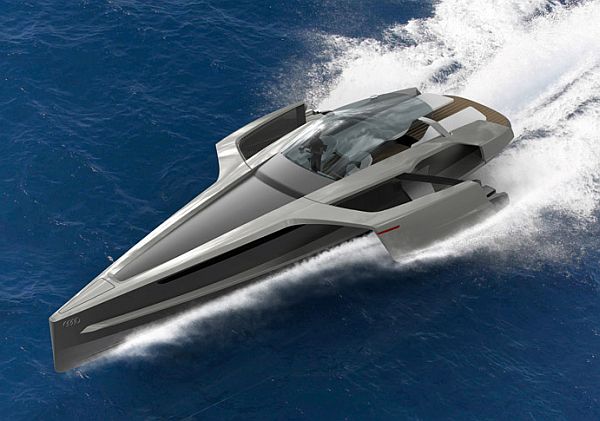 Audi, one of the most well-known brands in the automobile industry, with a view to broaden its horizons has now decided to venture into the field of manufacturing sailing boats after having successfully launched a wide range of four wheelers in recent years. Currently in the designing stage at its headquarters in Munich, Germany, Audi plans to launch a trimaran yacht – a boat with multiple hulls – at the soonest.
Designed by Stephanie Behringer, the Audi trimaran yacht integrates a main center hull supported by two smaller outrigger hulls on the either side with a jet ski stored in each of them. These hulls designed to be slender help cause lesser friction resistance when in water, thereby increasing the trimaran's efficiency. Additionally, the presence of two hulls also makes the trimaran more stable when at anchor or in motion.
The two jet skis in the these outrigger hulls are powered by electrical energy for low speeds of up to 8 knots required for movement of the yacht when in harbors or bays. For higher speeds of up to30 knots in open waters, two lightweight and efficient TDI (turbo charged injection) diesel engines propel the boat. However, what makes the trimaran stand out is the concept of electrical power backing the diesel engines when accelerating. This helps it reaching faster speeds and recharging the two jet ski batteries.
Still in the conceptual phase, the trimaran proposes to be 15 m long with the center hull being just 6.40 m wide. Designed to give a lounge-like feel on deck, the design of the trimaran yacht, though grace personified and accentuating the technical expertise of Audi, has an elegant and sporty look without looking too muscular.
Via: Designboom