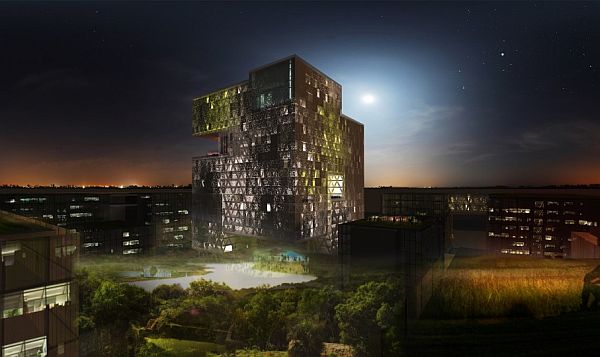 There was a time when a college campus meant one ancient boring building, usually with a large lawn in front, where students discussed and discovered the joys of education, sports and romance. Times have changed now. STL, a Chicago-based architecture and design studio, has come up with a revolutionary new project for an IT campus called Spiretech in India's Greater Noida region.
The best part of the radical new design is the inner space, which is the heart of the project. It functions both as a civic center for the new Spiritec Campus as well as a green lung for the complex by lining the interior with a lush vertical garden stretching 20 stories high. The vertical living wall garden incorporates a variety of plants, including floral and herbaceous species as well as ivy and ferns.
Imagine an entire living wall full of plants. It seems straight out of science fiction and should provide a refreshing new feel to the campus.
The innovative project includes a double layer exterior wall which defines a ventilated and articulated cavity. The outer layer is composed of panels with geometric patterns that provide varying degrees of transparency. In fact, these panels provide each facade with a unique identity. For the culture buffs, these panels are rooted in the geometric patterns of ancient India, and act as sheers that sift the sunlight and reveal subtle color changes, some of them based on the variations of the local textiles.
The outer shell of the design contains the key components of the program: hotel, residences, commercial and cultural spaces. With architects increasingly looking at environmentally friendly projects and new and original assignments being the order of the day, the building scene in India and many other developing countries is looking up.
To have a campus that incorporates these new ideas and thinking and encourages students is just icing on the cake.
Via: ArchDaily