Cooking is an art and you can do with as much support as you can get to help you in your daily cooking tasks. One such appliance you have to use on daily basis is the cutting board and in the following sections, we are going to look at some innovative transformations of the cutting board, which can be of great help for you at the time of preparing food.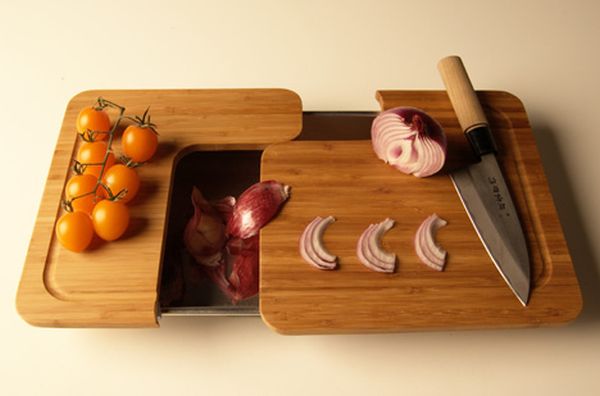 Bamboo Appetito:
This cutting board attempts to reinvent the conventional means of food preparation. In ordinary boards, you need to remove the waste to accommodate additional food but that is not a problem with Bamboo Appetito. It comes with a split cutting surface and features a stainless steel tray underneath to collect the waste and keep the cocking area clean and hygienic. You can easily slide open the surface to throw the waste and slide back to close it. In addition to it, the board stops the juice from overflowing, as it drains the excessive juice in the tray beneath.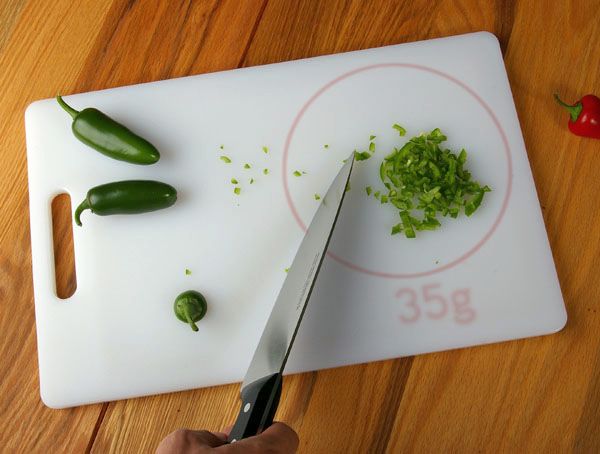 Cutting Board with Scale:
This cutting board comes with an integrated scale and lets you measure ingredients before you chop them to prepare meals. It works as a useful kitchen accessory, especially when you have to cut the fruits and vegetables of the exact length.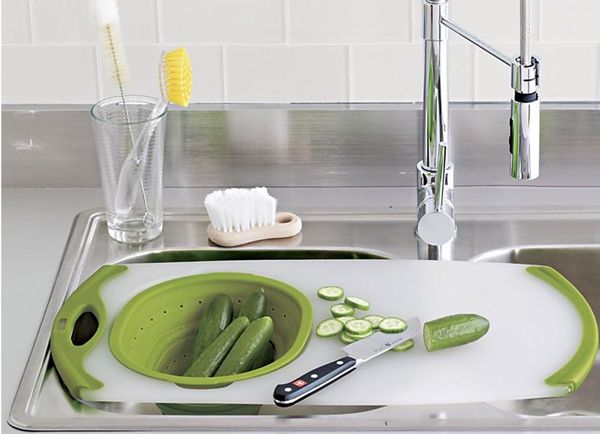 Nonslip Over the Sink Cutting Board:
This board makes chopping and washing vegetables and fruits an easy task. It comes with integrated silicone colander of 2.5oz that you can remove for easy cleaning. The other features of this cutting board are that it has heat resistance of up to 500 degrees, has non slip Santoprene handles and the polypropylene board is odor as well as stain resistant. Moreover, it is dishwasher safe and helps you keep your knives sharp and sparkling.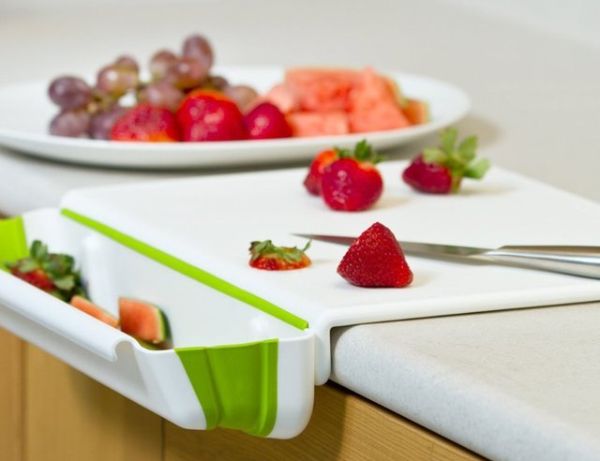 Collapsible Cutting Board:
This cutting board comes with integrated bin to collect the scraps and easily collapses for trouble-free storage. Featuring 4-cup capacity and a seal inside the bin, the collapsible cutting board also has a board to prevent liquids from spilling onto the floor. It has non-skid feet and you can fit it over a sink as well.
Chopping Board Gadget:
Designed by Antony Joseph, the new chopping board is easy to use and the best part is that you can put the chopped items directly into the utensil from the board itself. The board has three segments with central and bigger one meant for cutting purpose, while the other two segments lie on either sides of the board. These two segments fold up as soon as you press the handle and the chopped items drop directly into the utensil.
Summary
These cutting boards are unique and can be a useful addition to your kitchen. They will definitely help you make your work a lot easier in the kitchen.