We all are so used to watching the same ordinary ceiling fans over our heads, that we forget that these could be innovative too. You might ask what creativity can one have with one's fan? Well, imagine a helicopter hanging from your ceiling. Yes, that's the creativity that we are talking about. Below are examples of some of the most unusual ceiling fans designs of all times which are going to boggle your mind! Check them out.
15 – Unusual ceiling fan designs
1. The ceiling fan that looks like an upturned helicopter: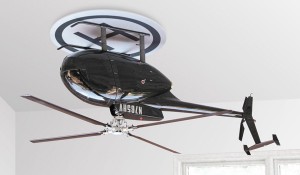 3D painting can enhance the overall beauty of your ceiling and thus house. You can go for 3D helicopter painting, as this will give an illusion of a miniature helicopter. The fan will seems like the propeller of the helicopter and will give an amazing touch to the room. Going for cartoons painted fans is a nice choice for kid's room.
This design which is Raffaele Iannello's brain child is indeed one of the craziest ceiling fan designs that you will ever comes across. It looks like an upturned RC helicopter and is mounted on a structure that greatly resembles a helipad. The extremely narrow blades of this fan give it an uber cool look!
2. The fan that features characters from the iconic Super Mario on its blades: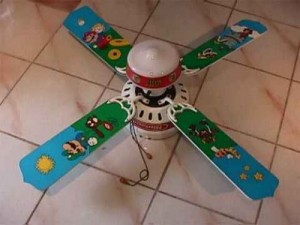 If you spent your childhood playing the Super Mario video game then you are going to love this particular design. The four blades of these fans feature Mario and his brother Lungi, a captured Princess Toadstool and an extremely sun-burnt King Koopa! This fan makes for a perfect collectible!
3. The Ribbon Ceiling fan: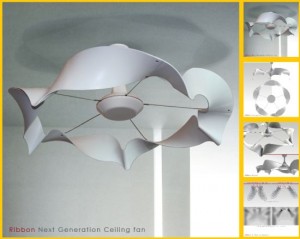 This ceiling fan catches attention better than anything else in a room because of its unique ribbon inspired design invented by Benjamin McMahon. When this fan is switched on it gives the impression of a fast moving and free-flowing ribbon which is indeed very arresting. The great thing about this fan apart from its design is its efficiency. Rest assured that you will not feel the need of an air-conditioner when you are sitting under this fan!
4. The dervish lamp fan: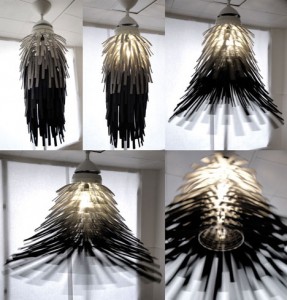 This fan that has been inspired by carwash brushes is definitely one of the most unusual ceiling fan designs. This lamp-cum-fan looks like a car wash brush that has been set into motion when it is turned on.
5. The fan with bat/dragon wings fan blades: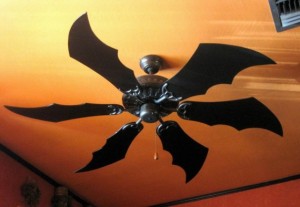 This particular ceiling fan design has a unique gothic look because of its blades that bear striking resemblance to the wings of a bat. These fans are not just unique but are light on the pockets as well as they start at just forty dollars!
6. The Brisa 2000 Ceiling fan: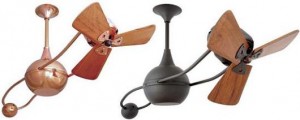 The right adjective to describe this ceiling fan would be funny! This particular fan orbits around a sphere and gives air to every part of the room, resulting in a spectacle that is funny and amusing at the same time!
7. Long Wing Ceiling Fans: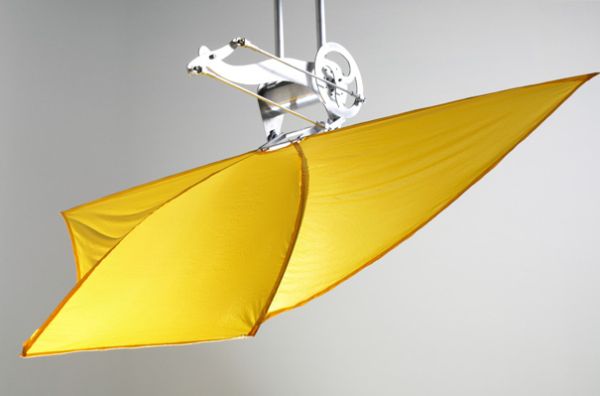 There was a time when people used palm leaves as fans for cooling themselves. A glance at the Long Wing Ceiling Fan will transport you to that ancient era. Designed by Alexander Ignon, this unique ceiling fan can be used in small rooms and large spaces like public buildings of different types. It is capable of saving lots of energy and requires only 15 watts for lowering room temperature. The German geared motor of this ceiling fan makes it powerful. You can get this lovely fan in a color of your choice.
8. Traditional Gyro Ceiling Fans: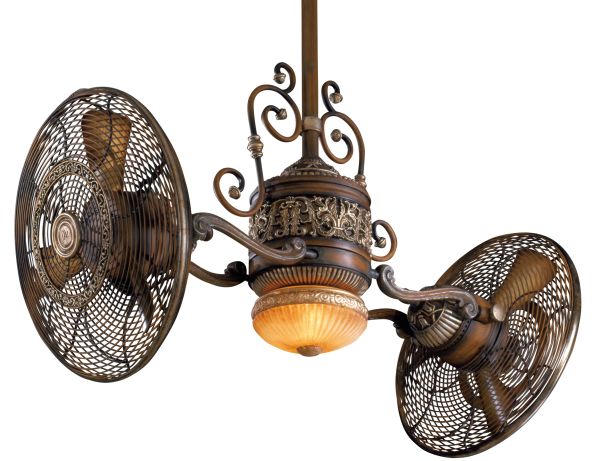 If you are an antique lover then you should consider getting the Traditional Gyro Ceiling fans for your home. They can add a special charm to your room décor. Minka Aire has used traditional looking design but at the same time made these fans extremely efficient. These fans can be used in any shape and size of room for brisk cooling.
9. Cumulous Ceiling Fan: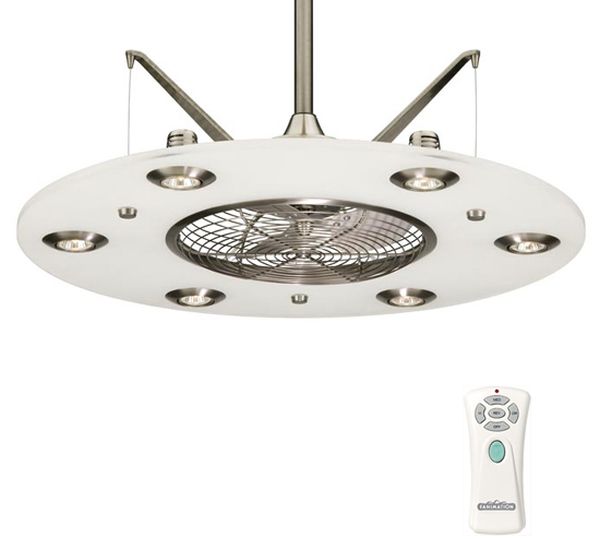 The Cumulous ceiling fan has a spectacular design, which you cannot ignore. Surrounded by lights, the fan hides blades behind grills. You can easily pass it off as a chandelier. There are six light fixtures around the fan, each of which has a 25-watt bulb. You can control this fan wirelessly from the couch or bed. 
 10. Brisa 2000: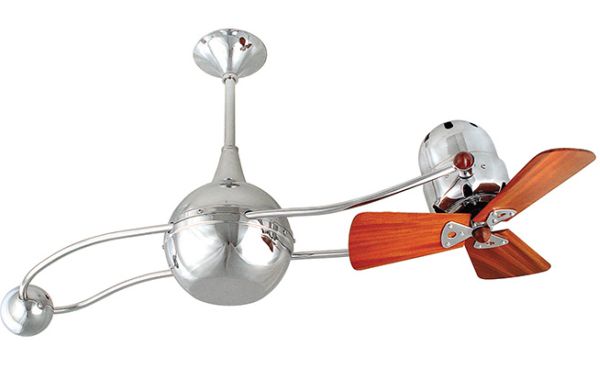 The Brisa 2000 ceiling fan looks as if the makers have imported it from some extraterrestrial body. The entire fan moves around the sphere like center and it can rotate in a perpendicular motion. However, the only disadvantage is its current market price. You can get it for a hefty $1,000. 
 11. Dervish lamp/ceiling fan: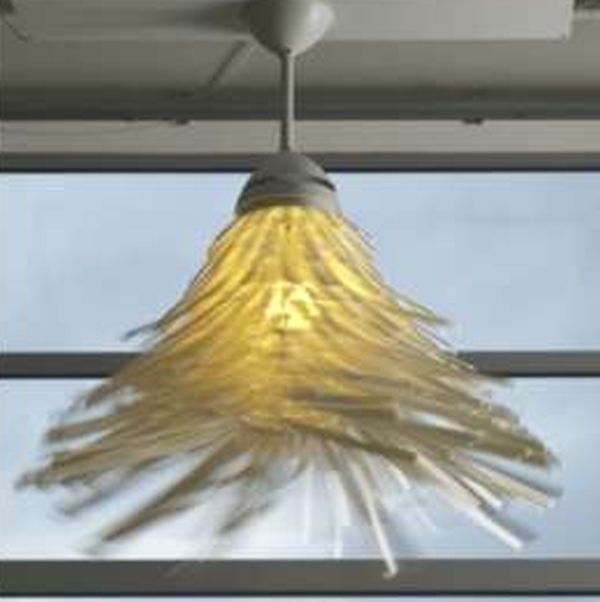 Philippe Malouin has developed a strange looking ceiling fan that is also a light. It looks quite similar to the brushes used for washing cars at automated cleaning stations. The strands transform themselves when in motion beautifully.
12. Unique blade fan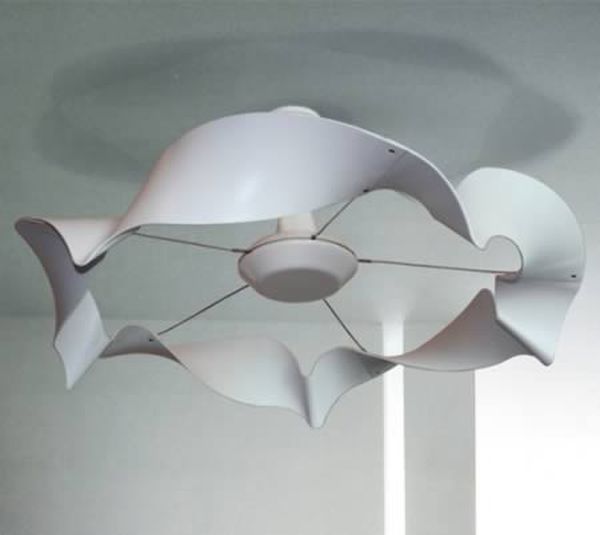 Designed by a university student, this award-winning ribbon fan not just looks unique to enhance the beauty of your house but also cools the indoor air to allow a comfortable room environment. Featuring a creative, special design, this fan is more efficient than any other ceiling fan available in the market. The geometrical design of the fan spreads the air in a wider circumference and allows effective cooling. The positive feature of this fan is that it uses standard fixtures for installation.
13. Chandelier cum fan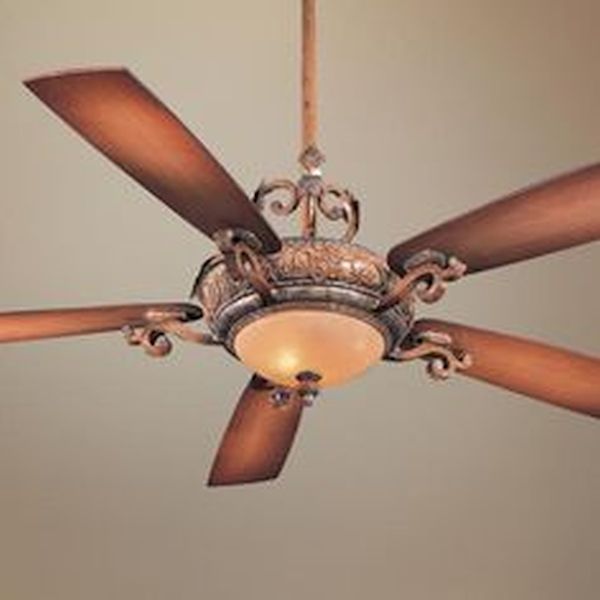 Featuring unique design and color selection, this chandelier cum fan just becomes a perfect choice for modern homes. Minka Aire offers an opportunity to people to enhance the beauty off their house and add a classy vintage look to their homes with this amazing chandelier cum fan. Controlling the direction of the breeze, the chandelier cum fan circulates the air efficiently in any direction or volume. You can install it in your living or any other room, as it goes perfectly with any type of interior.
14. Sun-shaped glass fan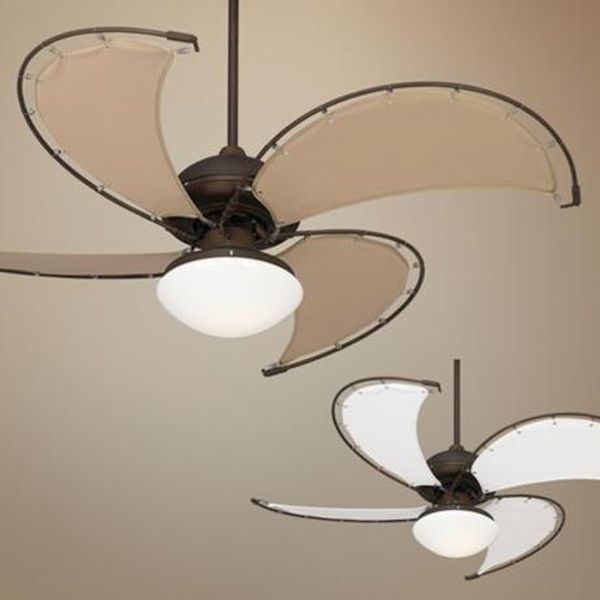 Sun is the symbol of power and positivity and installing such symbolic accessories in the bedroom or living room can spread positive aura in your home. The glass wings of the fan make it look like an amazing showpiece and display the dignity and class. The glass fan is very easy to install and you can use cloth to clean it, as it do not require any special care.
Final Words
Ceiling fans can now be the quirkiest thing at your home owing to the various innovations and experiments that modern designers are performing upon their designs. Out of the box ceiling fans are forming the latest trend in urban interior decoration, such fans are now finding a place in many living rooms, and offices belonging to people who think crazy are the new cool! These unusual ceiling fan designs speak volumes about their designer's creativity!