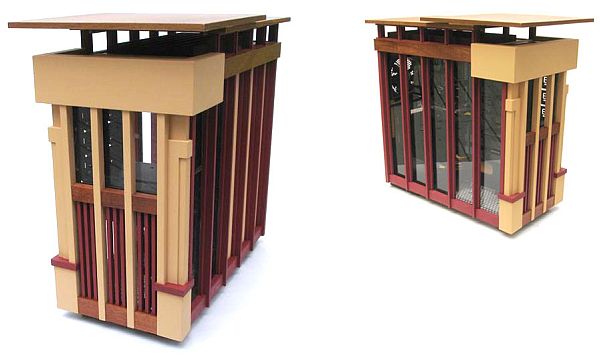 Usonian home concept was a brainchild of American architecture Frank Lloyd Wright. The homes he developed were typically small, single-story dwellings without a garage or much storage. His work has been studied extensively and many have derived inspiration from it. Bringing the same charm in the tech world is designer Jeffrey Stephenson, with the Usonian PC case.

Jeffrey has derived motivation from various projects, which were completed by Frank Lloyd Wright, and has skillfully used them in his design. Bachman-Wilson House stirred the fashioning of window walls while the back panel idea comes from the Coonley Playhouse. The computer case has been injected with Intel Core i7-875K, 8GB Crucial DDR1333 system memory, ATI 5750 1GB Low-profile video card, 256GB Crucial C300 SSD, a 2TB Seagate 3.5″ hard drive and case fans measuring 2 x 140mm and 2 x 120mm.
Usonian case has been given mahogany highlights and comes coated with colors that were liked by the architecture. The top of this advanced computer case has been made to look like the falling water balcony present at the front of Coonley Playhouse.
Usonian PC case will collide head on with various entries at this year's Coolermasters 2011 Case Mod Contest.
Via: boingboing