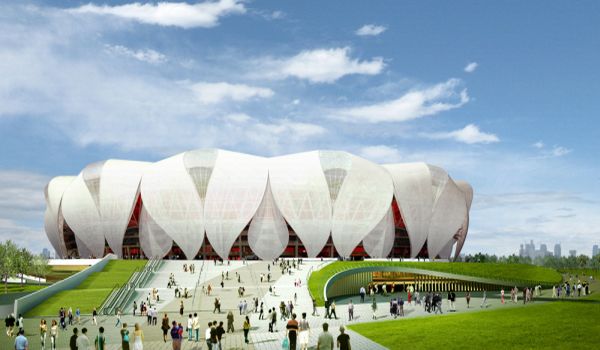 Hangzhou, the capital and the largest city of Zhejiang province in Eastern China, is recently in the news for having been boosted up in a sportive way. NBBJ, the global architecture, planning and design firm, in collaboration and partnership with CCDI (China Construction Design International) has designed a sport complex, known as Hangzhou Sports Park.
Although the city's history surrounds the area around the West Lake, the propagating trade and industry have expanded its territory towards the Qian Tang riverfront. Unlike other notable cities, Hangzhou is undergoing development and the establishment of Hangzhou Sports Park will add to this urbanization process. The location of the sports park on the Qian Tang riverfront and opposite to the new Business District, is expected to attract more visitors because of its picturesque beauty, and long term, flourishing ability.
The park has been planned meticulously. The upper platform links together the main stadium and tennis tournament facilities and is known as the 'sports boulevard'. The ground floor is completely dedicated for the recreation of the visitors. It has gardens, plazas, and pathways, designed for alternative and extreme sports. The ground floor also has courtyards containing boutique stores, restaurants, and multiplex cinemas. The main architectural attraction of the park is the 80,000-seat main stadium.
Hangzhou Sports Park, when constructed, will enable the city of Hangzhou to host elephantine sporting-events like Olympics. The construction work has commenced on December 2009 and is scheduled for completion in 2013.