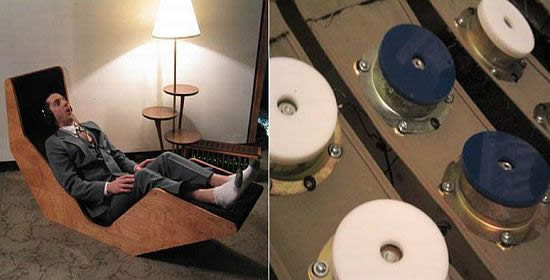 It is well known that music can heal and is good for one's soul. Also, regular studies indicate that feeling music is much more relaxing than just hearing it. And just when most of our wondering how to feel music, let me get Vibrotactile lounge chair in the picture. Vibrotactile devices communicate sound through physical contact with the skin but sadly aren't that widespread in use. However, bought to us by Eric Gunter, this Vibravibe VL-12 allows you to hear the sound and feel the excitement too! You'll experience dynamic, rhythmic, and harmonic structures of sonic vibrations while enjoying your favorite music. The body becomes the stage for a dance that is felt rather than seen. Enhancing the vibrotactile experience by totally surrounding the body with vibrations, this kinda chair is perfect for sound therapy, music therapy, biofeedback, and other forms of music enjoyment too.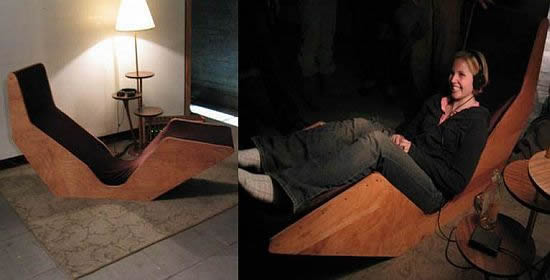 Crafted out of materials like plywood, canvas, lycra velvet, 12 low-frequency vibrotactile transducers, it has appropriated its form from a chaise lounge designed by the Studio Architetti Associati in 1953, thus representing a nonexistent piece of vintage electronics. It conjures images of the golden era of hi-fi audio.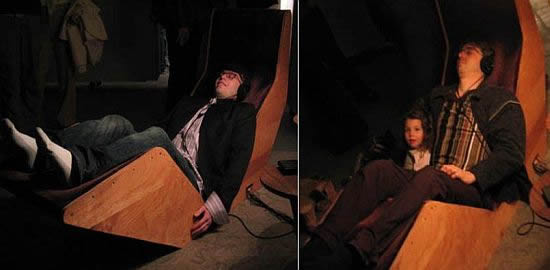 When exhibited at the Collision VII at the Art Interactive Gallery in April 2005, hundreds of visitors experienced the piece by putting on headphones and sitting back in the chair. The artist has also composed a composition of synchronous audio and vibrations for the exhibit.
However it doesn't look that comfy and inviting compared to an array of boom chairs, sonic chairs and high-tech multimedia chairs that rule the market these days.