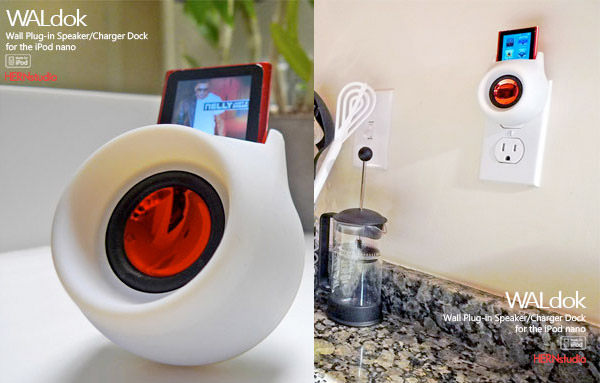 There are several docking stations available in the market today. Most of them come with an alarm clock that you probably don't need and some innovative ones that you can sit on even! But nothing comes close to this one in portability and ease of use. Here's a product that for once understands the real needs of the customer and incorporates it in the design.
There is no pretense in the design of the WALDok. It is designed to charge your iPod Nano and that is what it does. It is compact and fits directly into any standard wall outlet. No hassles of wires or a place to keep the dock. You can use it, not just to charge your Nano but for music playback as well, in your office, bedroom, kitchen or even the bathroom while you shower. Don't let the small size make you underestimate its sound quality. It has a specially designed bass chamber and a 40mm extra large driver that produces superior quality sound for music.
This novel docking station is being developed by designer Hern Kim. If you see value in this product, you can pledge your support for it on Kickstarter. By supporting this initiative you can keep tabs on the project as it progresses and also get limited edition WALDoks of your own when they hit the market.
Via: Technabob/Kickstarter