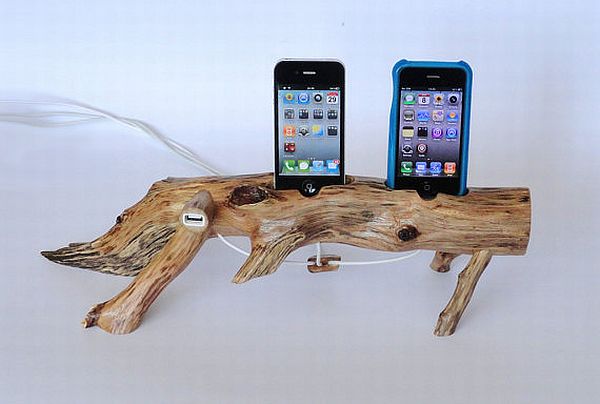 Charge your Apple device in a fashionable way with the wooden dual docking station. Not only is the docking station completely unique in its design, it is even eco friendly. Wondering how and why? Then read on…
Made from the stumps of dead trees, the wooden oak charging dock has been carved out to create neat little niches for the electronic gadgets. You can charge your iPhone 2G, iPhone 3G/3GS, iPhone 4 and iPod devices, except shuffle. What else can one want, but to charge their electronic gadgets the eco friendly way. Along the dock comes a 2 m long wire which can be attached to any power socket for charging purposes. No more worries of short wires for the length will redefine mobility and comfort.
The designer has designed the dock in such a superb way so as to accommodate any kind of iDevice. With the two given USB ports, you can connect any other gadget as well, may it be your phone, camera etc. Valliswood stand or dock is a completely multipurpose device.
If you think you need to gift a quintessential gadget to any of your friends, then this is the ideal gift. Available in different shapes and sizes, now you can have the design customized to your requirements. Ideal for offices and homes, charge your iPhone/iPod in a stylish way with the wooden dock. Valliswood stand or dock is available for a price of $90 with shipping charges extra.
Via: Etsy