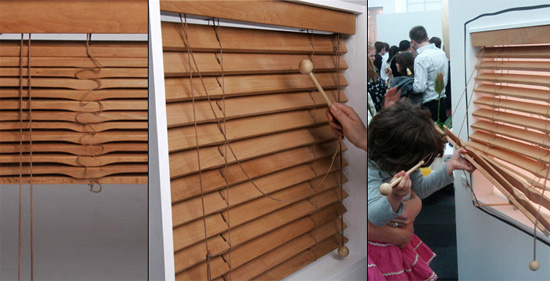 Insight:
Music surely has the powers of affording peace, given the condition it's tasteful and not analogous to noise. Having said that, it shouldn't be a herculean task to guess the features of Xylophone Window Blinds. The smooth wooden attire of the window covers undoubtedly drips elegance but there is a musical twist to this. When pulled down, it will keep the sun at bay and function as playful xylophone.
Usability:
Multi-functional fixations always have enjoyed an extra edge and this music-imbued window blinds intend to fill up your house with tinkling music. It goes without saying that children will frequently hover near windows, not to mention their naïve musical skills that will strike chords of noise on this wooden xylophone. This can keep children occupied for long hours but all the stake of your hearing capabilities.

Design Status:
These Xylophone Window Blinds look more of concept and no confirmed word yet as to how sooner it will be available on the retail shelves.
About the Designer:
William Gurley has done his majors in Industrial Design and has many delightful creations up his sleeves.
Via YankoDesign