When you are stuck at home with nothing to do – and nowhere to go – there's only so much Netflix you can binge before boredom starts to take hold. Boredom is a natural feeling, and while it's not the worst feeling to experience, it's not exactly pleasant. Once you've already watched all the movies on your to-watch list, caught up on your favorite TV series and cleaned up your living area, it can feel like the walls are starting to close in.
Before you give in to spending another evening mindlessly scrolling through social media or watching (and getting increasingly stressed out by) the news, check out these DIY crafts to keep your spirits high while you're stuck at home!
1. Refinish Furniture
Do you have some old furniture in your garage, attic or basement that you keep saying you'll use once you give it a facelift? If so, now is the perfect time to tackle that project. Refinishing furniture doesn't have to be difficult. After all, even cleaning something and giving it a fresh coat of paint can totally change its appearance. When you're finished, you'll get to experience the huge sense of satisfaction that comes from breathing new life into something old.
2. Learn to Knit
Knitting is a craft project that both eliminates boredom and provides a number of health benefits. It's easier to learn how to do than you may think, too. Whether you stick to simple projects, like scarves and hats, or you embark on more complex things, such as sweaters and afghans, knitting can lower your blood pressure and heart rate. It also lowers levels of the stress hormone known as cortisol. Plus, creating something using little more than sticks, string and your own two hands gives you a huge sense of accomplishment and boosts your self-esteem.
3. Tie-Dye Shirts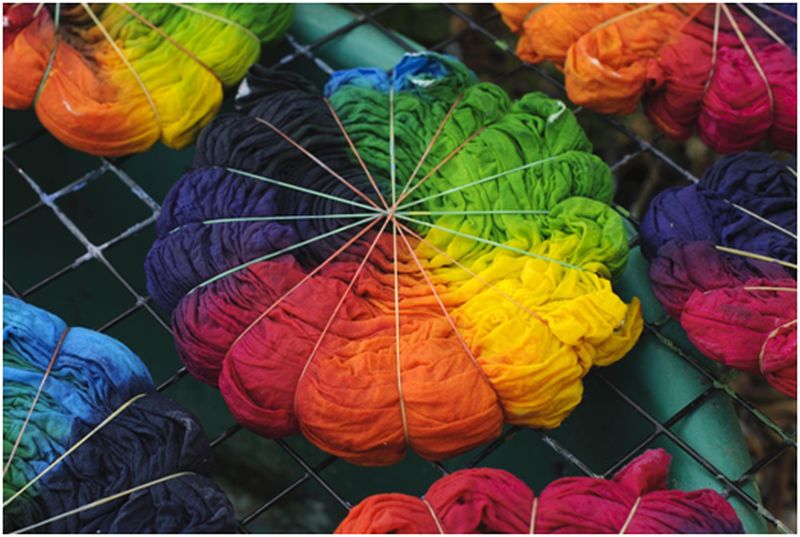 Making tie-dyed shirts is a fun and easy project for all ages. Once you learn how to make tie-dye shirts, you can design all sorts of one-of-a-kind creations. Whether you customize bulk wholesale t-shirts, hoodies or even tote bags, tie-dyeing is a project that you can enjoy on your own or with your family.
4. Make Jewelry
Making jewelry with beads is another rewarding craft project that's appropriate for all ages and skill levels. It could even be a lucrative business endeavor if you decide to sell your creations online or at local craft fairs. If you'd like to try your hand at jewelry making, you'll only need a few basic supplies to get started, including beads, beading wire, chain, clasps, split rings and needle-nose pliers.
5. Make a Stuffed Animal from a T-Shirt
With a few basic sewing skills, you can easily turn an old t-shirt or a cheap shirt into a unique stuffed animal. You can use a shirt that once belonged to a loved one to create a treasured keepsake, or you can use cheap bulk shirts to make multiple animals in a variety of colors and patterns. This simple project is a lot of fun and it is a great way to upcycle materials that you already have laying around your house.
6. Color in a Coloring Book
If you are looking for a DIY project that will pass the time and take your mind off being bored without requiring you to put a lot of thought into what you're doing, coloring in a coloring book is a great option. There are adult coloring books out there to match any interest, and getting lost in one is an enjoyable way to pass the time. Doing so also enables you to create beautiful pieces of art even if you aren't particularly good at drawing or painting.
7. Make Slime
Making slime may seem like child's play, but it's a project that is great for adults, too. The ASMR effect is the amazing tingly feeling you get when listening to certain whispery or crisp sounds and watching slow movements. It is a very real thing. And making slime is one of the best ways to experience it for yourself. Sit in a quiet room and slowly knead together a tablespoon of baking soda, a tablespoon of contact lens solution and four ounces of white glue. We know it sounds weird, but you'll see what we mean!
8. Start Cross-Stitching
Cross-stitching isn't just for grandmas! After all, it's hard to argue with the satisfaction that comes from stabbing a piece of fabric repeatedly. When stitching inside an embroidery hoop, your imagination is the only limit. There are patterns out there that will help you stitch just about any design you could ever possibly imagine. Once you've built up your skills a bit, you can even create your own patterns or do free-hand stitching. Cross-stitching is easier than it looks, and like many of the other projects on this list, it yields finished products that are very rewarding.
9. Try String Art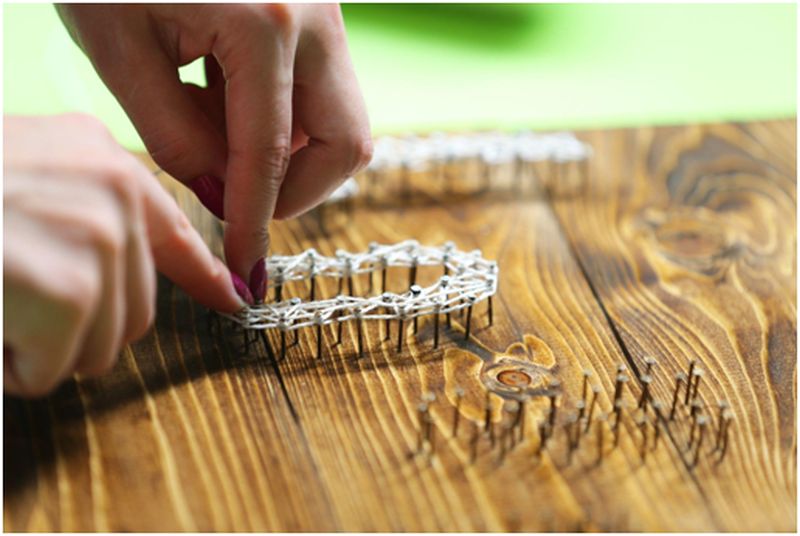 String art is super fun and allows you to create amazing artwork even if you don't think of yourself as being particularly artistic. While you could buy a kit from a store, you don't need to. Instead, find a simple image you like and print it out on regular paper. Then, place it on top of a piece of wood. Pound small nails into the wood around the edge of the image, then remove the image. Wrap yarn or string around the nails in a random pattern until the image is filled in. That's all there is to it!
10. Create Your Own Cards
While many of us now share well wishes for birthdays and holidays virtually, there is still something special about receiving a real card in the mail. You can make your loved ones feel special by sending them cards you made with your own two hands. With a bit of creativity, making cards is easy. Not sure where to start? These card making tips will turn you into a pro. 
Conclusion
If you are starting to feel like the walls are closing in on you, try one of the crafts listed above. Doing so will surely lift your spirits and help you beat boredom!
Article Submitted By Community Writer