No vehicle, not even the most expensive supercars are as fun as riding a skateboard. On top of that, they are eco-friendly too. You need very little material to manufacture a skateboard, plus need no oil or gas to run them. If, along with all that, if we were to say that the skateboard would be trendy too, then what more can you ask? So, here's a list of 12 extraordinary skateboards that you will love to ride someday.
12 Extraordinary Skateboards
If you do not wish to barter for the unusual, all you will have to settle for is the usual. Yes, it does require an unusual mind to figure out what can be done with the ordinary, but to make that extraordinary it actually requires a lot more. Getting that extraordinary out of their rather uncanny minds, designers often deliver concepts beyond usual, skateboards have also been tinkered with. We've rolled over the conventionally made skateboards, but then you wouldn't mind a glance through some out of the ordinary skateboards that we may get to ride on someday. Here is a list of 10 such skateboards that you can treat your eyes upon after the jump.
1. Axess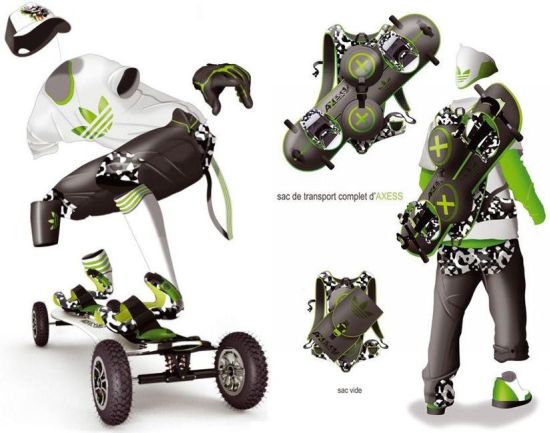 The Axess, makes you access the same area with a lot of modulations that make it better than anything currently on offer. Longboard manufacturers around the globe would surely have their eyes on this design for the sheer versatility it brings to the same. If they miss out on this design, they would kind of hinder the evolution of these phenomenally popular rollers that people just love to have fun with. Read more
2. Foldable Skateboard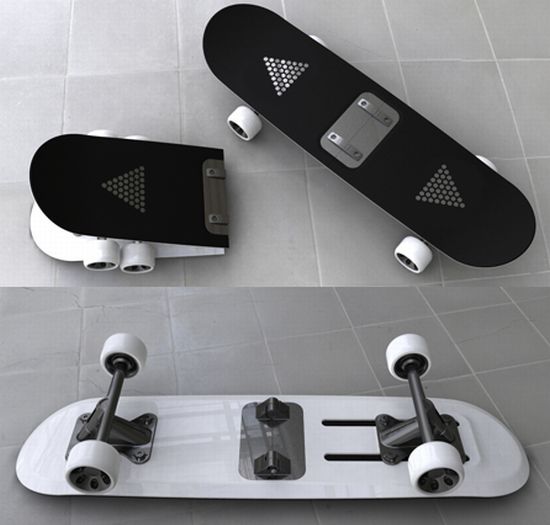 Designer Jin Seok Hwang might look different from everything that you have ever seen or owned in the past! Running or moving like a standard skateboard, the new skateboard by the NYC designer, as suggested by its name "Foldable Skateboard," folds in half for easy storage as well as transportation. Read more
3. IPSVM skateboard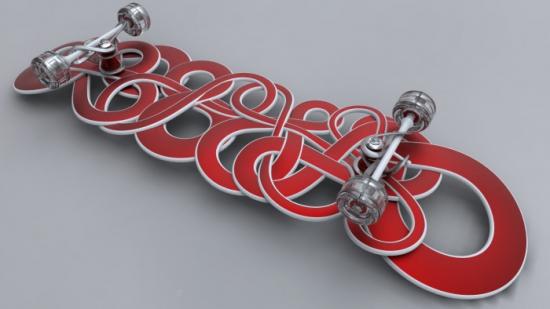 This IPSVM skateboard is perhaps a design too artistic to board, but it's a creation to unsettle the rest, and force them to scrape their brains. Designed by Loren Kulesus, the IPSVM skateboard strives to look ahead as a new knot-y-based mode of transportation for the greener future. Read more
4. SoulArc Board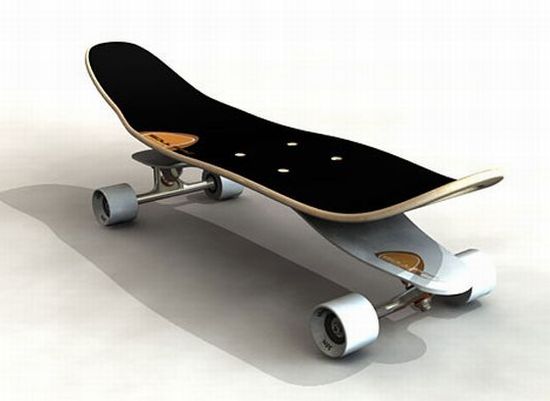 The SoulArc Board is designed to help skateboarders enjoy an experience that resembles surfing, and this accounts for its springy design. The distance between the deck and its wheels and a composite spring located beneath the deck provides a different feel to this board. Mitch Mulder and Salvaore Vilardi are planning to release their creation into the market at Action Sports Retail trade show in San Diego in a couple of weeks. Read more
5. Stepboard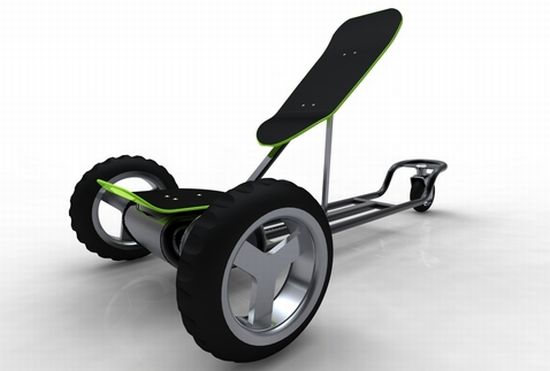 Inspired by the Waveboard Skateboard, designer Nicolás Chacana has come up with a recreational skateboard that allows great control to the users, making skateboarding fun on the streets. Hailed as the "Stepboard," the new skateboard is driven by a lever and a pinion-gear fixture, progressing it with each footfall. Read more
6. Tract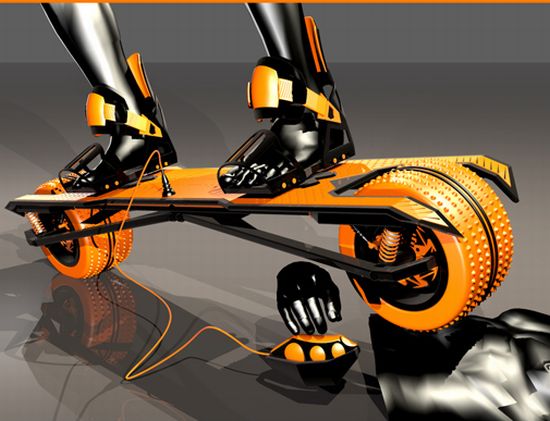 Brandon Boycher wanted to design something for "extreme" outdoor athletes. To say that he's done precisely this with the Tract would be quite an understatement. This concept for an all-terrain vehicle promises to unleash a whole new genre of outdoor activities. The Tract is basically a single mounting board, much like a skateboard. Read more
7. ShortBoard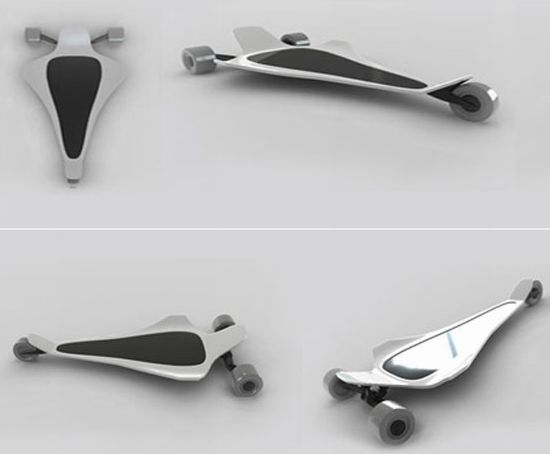 Kiwi designer Alex Hodge has come up with a portable skateboard dubbed "ShortBoard" that featuring a compact design is very light to carry and easily fits in a small car. Designed to be used as "Secondary Transportation," the ShortBoard moves the commuters to their workplace from the parking slots, within no time, without getting tired. Read more
8. Pumpboard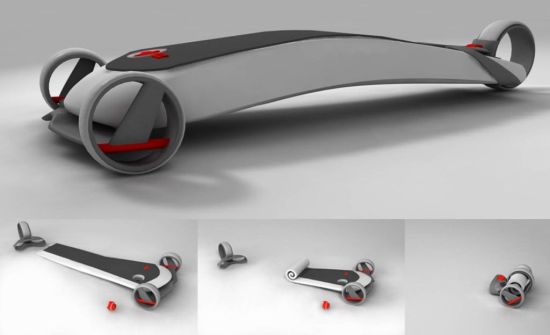 Pumpboard, designed by Puzon Maciej seems a bit odd and somehow, at the same time, interesting. The skateboard can be folded and stashed away when not in use, and pumped up whenever you're in one of your skateboarding moods. The body of the board is covered with fibers on the inside for support and rigidity. Read more
9. Dirtsurfer Freestyle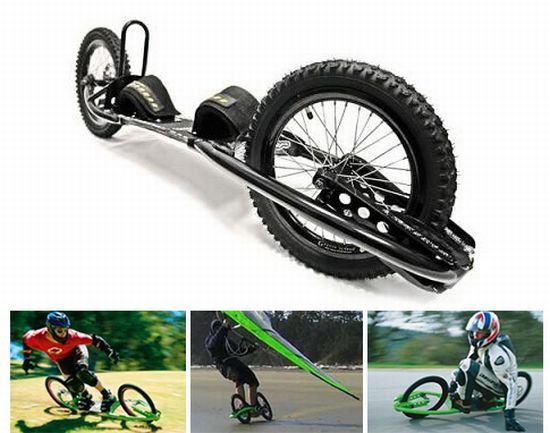 Dirtsurfing seems to one up skateboarding. There are as many surfaces that you can ride a skateboard on but dirtsurfing can be practiced almost anywhere. And then there are the added elements of surfing and snowboarding. So if you are one for this outdoor activity then you are sure to love this Freestyle Dirtsurfer, coming in for $450. Read more
10. Fan-powered skateboard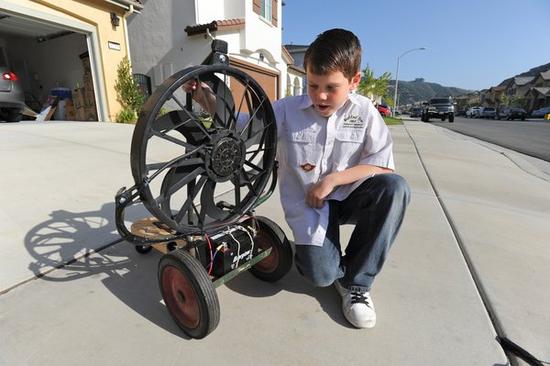 California based nine-year-old student Chris Neal has got a skateboard fitted with a motorcycle battery powered fan to push a skateboard 3 to 5 mph with a rider on it. Read more

11. Backpack Skateboard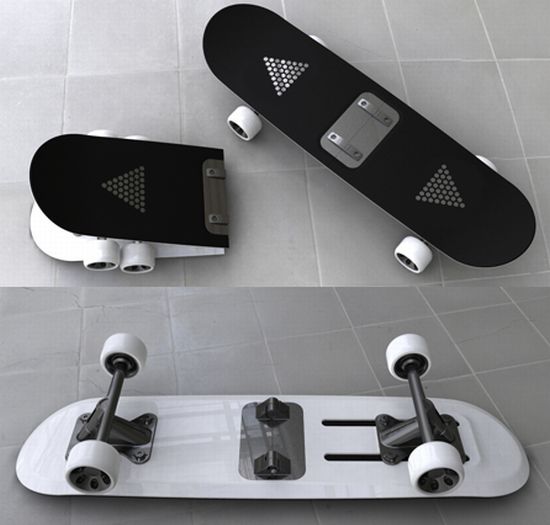 Skateboards come and go, but the latest skateboard concept by designer Jin Seok Hwang might look different from everything that you have ever seen or owned in the past! Running or moving like a standard skateboard, the new skateboard by the NYC designer, as suggested by its name "Foldable Skateboard," folds in half for easy storage as well as transportation. Moving your skateboard on city streets is no less than a thrill ride, however, the portable skateboard slipping into a backpack will add comfort and style to your skateboarding experience.
12. Raptor Skateboard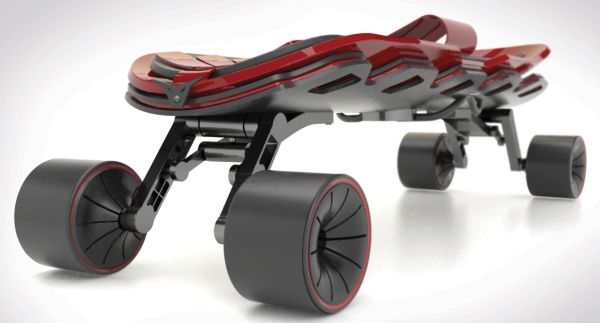 The Raptor Skateboard is a blend of a funky skateboard and delectable industrial design, which is designed to give its user an adrenaline rush every time the skateboard is used. It will directly roll you in the extreme sports section that will give you goose bumps. Named the Raptor, it has been designed by Andrea Mangano. The industrial designer joined hands with the car company Alfa Romeo for this project.
The Raptor is a sports accessory that will make you taste speed in an unusual way. The designer closely studied a lot of extreme sports activities before narrowing down on Speed-down. High speed races rule speed-down and that's the precise reason why car company Alfa Romeo came in the scene. The designer has crafted this speedy accessory in a manner that dictates perfect balance and strength.
The core structure comprises of three plates that will inject stability and muscle in it. It has been made from two basic colors (red and black), which not only make for a deadly combination but are typical Alfa Romeo colors. The Raptor has been fitted with mechanical arms, which are present at the front and back.
These will let users take extreme bends and make sure they don't lose balance. Apart from this, the sports accessory takes care of necessary safety features as well. A protection has been wedged at the rear that will provide necessary safety in case of a collision. So, if you are an extreme sports lover, then the Raptor is here to sprinkle some speedy fun in your life.
Read More: