Looking for a case for your new iPhone 6? Below are 10 covers that offer superior protection and robust functionality.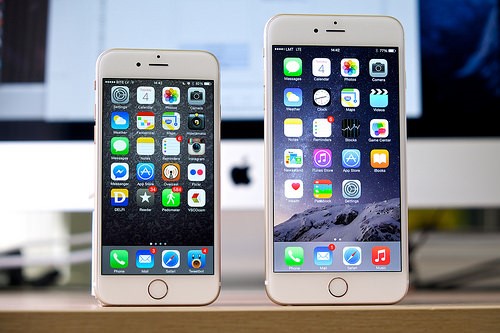 Image via Flickr by Janitors
1. Boostcase Detachable Power Case
While the impressive new iPhone from Apple has a more efficient and longer lasting battery than ever before, users can still get a little extra juice by using this case. Featuring a slim design that compliments that shape of your iPhone, you'll hardly notice the 2,700mAh battery enclosed on the back. A simple switch lets you instantly pump power into your iPhone's battery pack, extending its already impressive lifespan. There is a slight bulk from the protective elements of the case, but for the sake of prolonging your phone's life, it's probably worth it.
2. Proporta Leather Sleeve 
If you're looking for an iPhone 6 case that's easy on the hands, the Proporta Leather Sleeve is what you need. It's stylish, snug, and lined with microfiber for added comfort. The cover is on the high end of luxury. Tight edges make the case very durable, but it doesn't offer the same level of protection as a hard shell.
3. STM Harbour Case
The STM Harbour Case serves as a great option for students on the go. A unique hinge allows users to pull their device out with ease. Designed for multitaskers, the case comes with an optional portrait stand, which is perfect for viewing videos and slides. The texture can get slippery, so be sure to keep your hands clean when using this one.
4. Nodus Access Case 
Don't have room in your pocket for a phone and a wallet? With the Nodus Access Case you can have both. The cover is made out of creamy leather, giving it the look and feel of a real wallet. Small pockets in the case let users store cards or cash. Don't expect the case to offer reliable drop protection though.
5. Pelican ProGear Voyager Case 
Those who live extreme lifestyles need extreme iPhone cases, and that's exactly what the Pelican ProGear Voyager Case can offer. It's one of the few shells that pass military-standard testing. Thanks to layers of polycarbonate, your smartphone can withstand light shock and accidental drops. The trade-off for the excess protection is the bulk that comes with the case.
6. Incipio DualPro iPhone 6 Case
The Incipio DualPro IPhone 6 case is sleek, thin, and shiny. As you might have guessed, it doesn't offer much protection, but that's okay if you're just using it around the office. The lightweight silicone adds a sticky surface for added grip. Lack of port covers may leave your device dusty and greasy.
7. NewNow iPhone 6 Battery Case
iPhone 6 cases can get pricy, especially shells that have batteries. If you're looking for an entry-level case that screams value, check out the NewNow iPhone 6 Battery Case. It packs a powerful 4000mAh battery at an affordable price. What's the catch? The case only comes in two color options: black or white.
8. Shocksock iPhone 6 Exercise Armband
Workout fanatics are always on the hunt for a well-balanced armband. The Shocksock iPhone 6 Exercise Armband is sturdy, widely adjustable, and comfortable. It won't burn your skin, nor will it melt under the sun. The reflective cover can also help keep you safe during late-night runs around the city.
9. MC Fashion Camo iPhone 6 Case
There aren't many glow-in-the-dark shells out there. That's why the MC Fashion Camo iPhone 6 Case is ideal for individuals who want to make a loud, bold statement. The case does not offer any functional features and can be hard to grip at times due to the slick coating.
10. Supcase iPhone 6 Case
Finding a case that suits your mood throughout the day is difficult. No one is spared from unpredictability, which is where the Supcase iPhone 6 Case excels. With its changeable covers, you can be sure to have a case that matches your spontaneous mood or outfit. The shell also includes a built-in screen protector. Decent water-resistant capabilities can help your mobile device stay dry.
Which iPhone 6 case is your favorite? Let us know what you think.