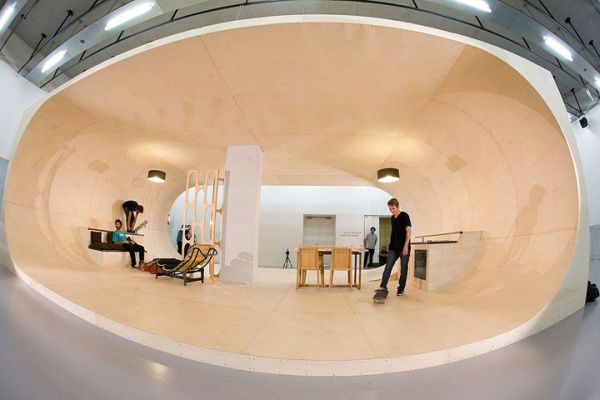 The 753.5 sq feet version of the house created by Pierre-André Senizergues and designed by artist, Gil Le Bon Delapointe, is one unique creation. Skaters, like any addict, are addicted to just one thing, skating. Having said this, now you have to let the horses of your imagination run wild and see how far you can skate on the ideas.
The skating house has been built in a very different way. Right from the appliances to the other inhabitants of the dwelling, everything is skateable. Connected like a smooth ribbon, even the sofas, chairs will make you want to skate on them. The cornucopia of skating will not end here for if you have the will to move around, then the house has been tailor-made for you.
No more parents screaming on you for donning your skates inside the house, for if you come without a pair, it would be like an insult to the house. May it be the walls, ceiling or the floor; everything is fused in a way so as to form one elongated piece of skateable material. The 2200 sq feet house is in Malibu and a portion of it would be on display in Paris at the La Gaite Lyrique, showing off its potential
So what are you waiting for… Bring out the skates from the closet and zoom away in this miniature version of the SKATING HOUSE!