[box_dark]Swarovski Studded Eco-friendly Bathtub Designs[/box_dark]
Bathtubs mostly deal with inviting water and ample space. They involve luxury more than usability. And diamonds represent the height of luxury. So, it is a no-brainer that the two worlds would collide eventually, and the results are beyond your wildest imagination. Each Swarovski studded bathtub is a work of art and when eco-friendliness is thrown into the mix, you will be hard-pressed to find a home worthy of harbouring such a perfect object.
[box_dark]Sabbia Luxury Soaker[/box_dark]
Sabbia, the international luxury brand, has teamed with crystal giant, Swarovski, to produce what the company has elegantly termed a "bejeweled velvety soaker". The extremely classy bathtub boasts of 4030 Swarovski crystals hand set in a curvaceous floral pattern that is able to add the proper dose of glamour to your in-home spa. The main tub has been composed using Sandstone technology, which is both organic and eco-friendly. Details about availability and pricing are yet to be revealed. The tubs will be displayed at Sao Paulo and Rio, prior to which you can catch a sneak peek of this breathtaking tub at the House Shopping Park in Brasilia from the 17th to the 28th of November.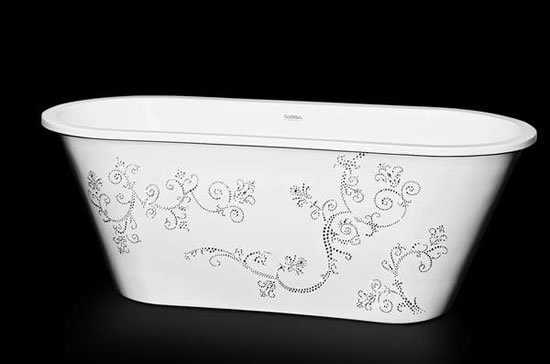 [box_dark]Bathtub for Baby B: Diamonds are a Little Girl's Best Friend[/box_dark]
Celebrity power couple, Beyonce and Jay-Z recently welcomed baby Blue Ivy into the world. The couple had received an expensive gift at the time of expecting from family friend, singer Kelly Rowland – a crystal Swarovski studded bathtub to the tune of $7,000. The Swarovski crystals on the tub have been applied by hand in detail. Being covered all over with pink crystals, the bathtub happens to be perfect for the baby girl. The tub can double up as a beverage chiller in case of parties. The tub was designed by Lori Gardner and required several hours of painstaking labour to attach over 44,928 imported crystals. The tub weighs more than 3,000 pounds.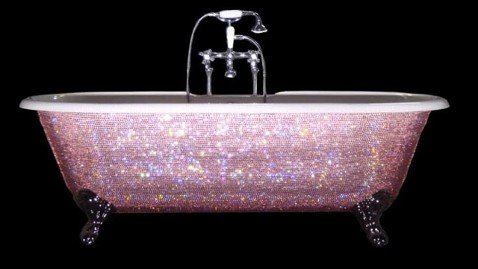 [box_dark]Fit for Six: Arcaro Martini Bold Gold[/box_dark]
Arcaro Martini unveiled the brand's new bathtub crafted with 24 carat gold accents. The luxurious piece of bathroom decor is lined with leather and boasts of Swarovski crystal trimmings. The brainchild of designers, Roberto Martini and Giacomo Arcaro, the Exec Digital bathtub has a custom whirlpool design. Each bathtub of the line is an exclusive product, limited to a single piece. Instead of simple basic designs, there is a leather and gold featuring white leather and yellow gold, another with eco-friendly black leather and gold with Swarovski trimming. The final one is a gold antique bathtub with black leather and Swarovski crystals. The tub is large enough to comfortably fit six people. Each tub consists of a lifetime Platinum Elite structure with five years of electrical and two outer coating. The exquisite tub has managed to grab the attention of all the best luxury magazines.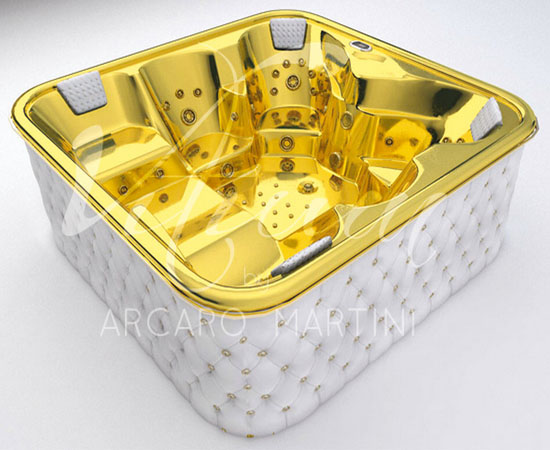 [box_dark]Aqua Mass Crystal Baroque Art[/box_dark]
The Aqua Mass double luxury bathtub is the upshot of the creative collaboration between designer baths producer Aqua Mass and Swarovski Crystal. The gorgeous baroque piece comes in two separate neutral colours – black and white – and has a price tag of US $19,670/ 13,980 EUR.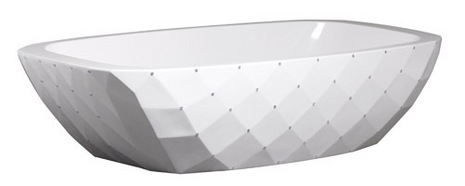 [box_dark]Exotic Swarovski Diamond Teuco Bathtub[/box_dark]
The Swarovski studded bathtub from Teuco may cost a bomb but the elements that went into the making of the bathtub are worth the hefty price tag. The exotic piece of bath ware, made in collaboration with Fiona Winter Swarovski, consists of intricate design on the edge of the tub. In terms of appearance, the tub looks a lot like a large piece of jewellery and will me more at home in a safe instead of your bathroom.