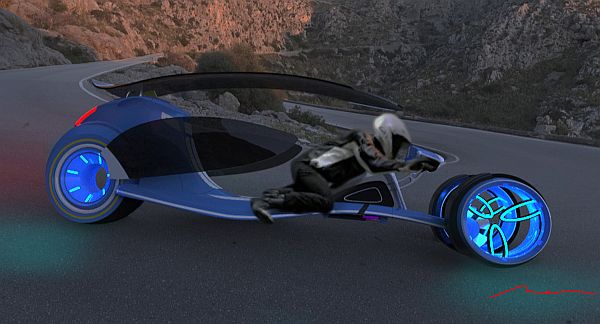 If you take pleasure in sceneries and unwrapped milieu while riding but feel that a closed vehicle acts like a hindrance, then "2ICE" will win over you immediately. An Industrial Engineer and a Designer, 29 year old Ramon Ramirez has come up with a swappable form of transportation which makes you feel the adrenaline rush like a bike and unwinds you with its ability to alter into a two wheel passenger scooter. The name 2ICE (read twice) comes from the fact that it can be converted from a motorcycle to a two passenger scooter.

Always on the hunt to weave new ideas for energy solutions, this Mexican feels that "2ICE" will help taking care of the environment. An electric motor incorporated in the motor vehicle assists it to dash at elevated speediness by producing adequate power. Electrical energy in this simple and realistic vehicle is stockpiled on a long lithium battery like a generator which is created through driving. Spawning energy for controls (CPU), lighting and electric-magnetic braking system are front hub less wheels in the form of dynamos.
Feel the essence of nature and dive into its beauty with this eco-friendly and well-designed vehicle!