Are you revamping your living room because you're bored with how it looks? Are you moving into your first apartment? Or are you remodeling your house and need a brand new sofa to match your current style?
Regardless of your seasons, the sofa style you choose sets the mood of your entire living room. Unfortunately, the process may end up being quite challenging since there are countless sofa styles available for you to choose from.
The sofa style you choose must match your lifestyle and suit the aesthetics of your room. While this may seem like a daunting process, don't worry about it, we're here to help you. Let's explore some of the most modern sofa styles that you can use as inspiration for your living room design:
1. Mid-century Modern Sofa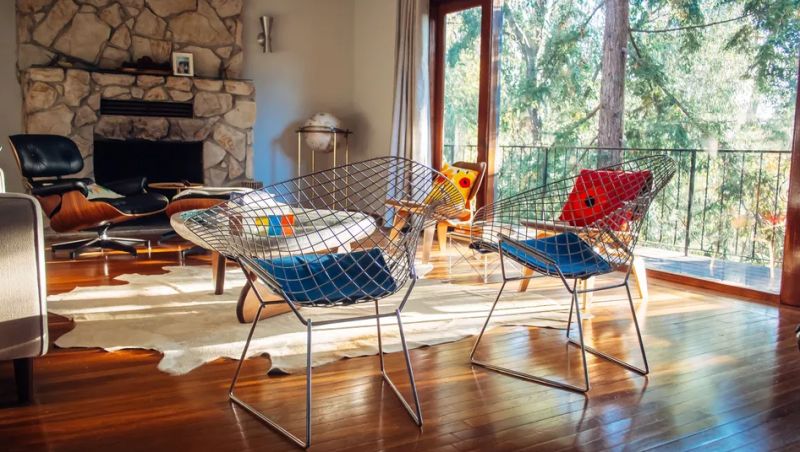 Where modern designs are concerned, it doesn't get better than the mid-century modern style. The sofa style in particular is characterized by a low profile and clean line and is perfect for small rooms. It's a versatile sofa that can be suited to any room's theme and is particularly great if you want to add a retro vibe to your overall decor.
The mid-century modern sofa style features a linear structure and exposed legs and occasionally has shallow button tufting at the back. To ensure the sofa doesn't look out of place, pair it up with other pieces of scaled-back furniture.
2. Chesterfield Sofa
This hunky sofa style is bound to make a statement. The Chesterfield sofa has been around since the 18th century and, today, it's become a classic. Known for its tufted or quilted style, the Chesterfield sofa is characterized by its diamond-tufted back, high arms, and deep seat.
While the design typically has rolled arms, the Chesterfield sofa has recently been modernized to suit people's styles. The style's wraparound design makes for a cozy seat big enough for your entire family to scooch in together.
3. Sectional Sofa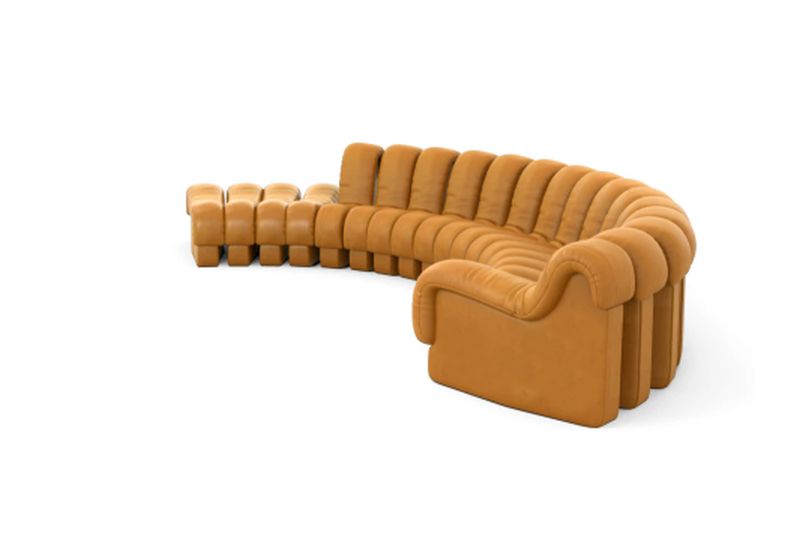 Sectionals are a relatively modern addition to the sofa catalog, and its multi-piece design makes it a standout addition to your living room. It typically has three to five pieces, and you can set it according to several ways.
Perhaps the best part about a sectional sofa is how big it is. In fact, it's often referred to as the "family sofa" and is quite practical with plenty of seating for everyone. The DS 600 sofa is an excellent sofa to consider if this style appeals to you. You can customize it according to whichever material you prefer, whether that's suede, leather, or velvet, and finish off the look with fluffy cushions to make it your favorite spot in the house.
4. Cabriole Sofa
If the Chesterfield Sofa is known for its gentlemanly style, the Cabriole is as feminine as it gets. In fact, the sofa style was popularized during the first half of the 18th century and was favored by Queen Anne. Today, you can modernize the sofa by keeping the back upholstery tight and a single bench cushion for an ultimately chic look.
One of the best parts about the Cabriole is the extent to which you can personalize it. You can make it as glamorous as you want with luxurious materials like velvet and adorn them with jewels. Otherwise, you can opt for a muted look with a neutral texture. Regardless, this sofa style draws its elegance from its shape and legs.
5. Tuxedo Sofa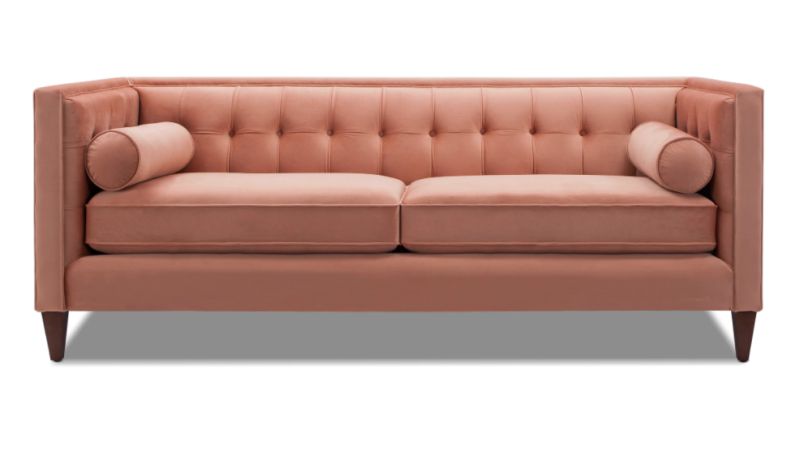 For a design that's modern and timeless at the same time, look no further than the Tuxedo. It bears similarities with Chesterfield since its arms and back are of the same height, but it's geometric and clean-lined. Additionally, it's typically upholstered with fabric, mostly leather and velvet.
The Tuxedo sofa style is typically known for its allure and sexy appeal, but you can always add cushions to add comfort. Like its namesake and the classic men's suit, a tuxedo sofa is an excellent option when you want to add a bit of elegance to your living room.
6. Settee Sofa
Sometimes, you may not have as much space in your living room, but that doesn't mean you need to skimp out on the decor. In this case, the Settee sofa is what you should be considering. It's as comfortable and stylish as a full-sized sofa, and you can easily add it to create a cozy landing spot.
The settee is characterized by a straight back and typically seats two or more people. It's an elegant silhouette and is typically upholstered with attached seat cushions. It usually complements the other seating in the room due to its size and is not considered the main feature.
7. Camelback Sofa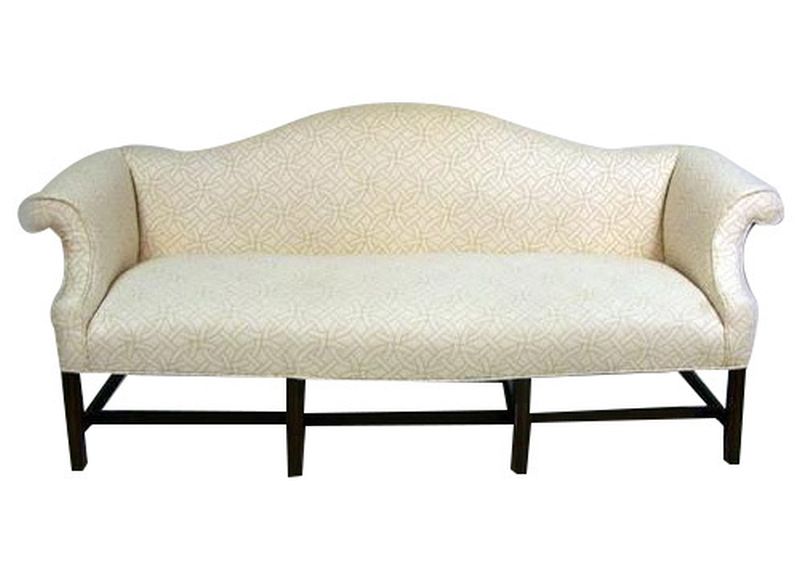 Just as the name suggests, the Camelback sofa has one or two humps that enhance the sofa's main silhouette. It was popularized in the 18th century by families who desired a formal and aristocratic sofa style.
Today, the Camelback is an excellent option if you're going for a formal element in your living room space. If you're opting for a casual look, you should consider a lighter fabric that suits the overall vibe.
Typically, the design has exposed legs, rolled or squared arms, and no back cushions. However, if you want more comfortable seating, you can add cushions. Either way, the Camelback is excellent to add an air of formality to your room.
Final Thoughts
The sofa styles listed above can definitely help you give a head start; but don't limit yourself! There are countless sofa styles for you to choose from and whichever sofa style you eventually opt for largely depends on your taste. No matter which way you want to decorate your room, though, you can easily find a sofa style that suits your taste and perfectly blends with the overall look you're going for in your living room.
Article Submitted By Community Writer