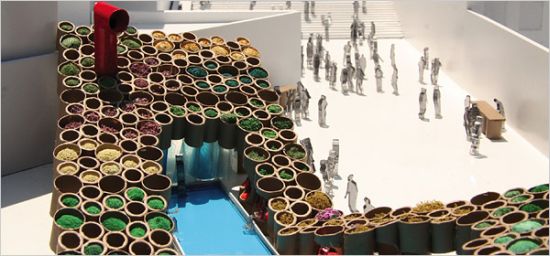 It is yet another occasion when revolutionary architecture has again set in to take a new turn and do something really novel. This time the purpose is transformation of the patio at the Contemporary Art Center in Long Island City, Queens. And the extraordinary intellects who have stood up to the task are Dan Wood and Amale Andraos.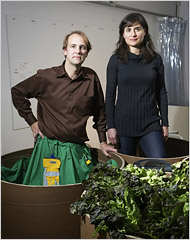 They are the couple behind the reputed Work Architecture. The particular model that they presented was a complete exodus from almost all the prior blueprint proposals. The noteworthy essentials of their design include Wood's donning of a bulbous green crop growing skirt adorned with specifically intended pockets, growing heads of lettuce, heavy cardboard tubes for spacing purposes, bolted columns that form a cover that rise on either sides of a pool in a V-shape. Every tube is supposed to play a unique role; some may hold plantings on dirt shelves outfitted with liner bags to avert seepage. Then there is a fabric tube which populace can go into through a curtain. The design also has a set of sound columns, the first plays farm sounds when people sit down, in the second one stars are visible with crickets chirping around, a sage-budding column with circulating fans will continuously disperse essences of basil or lavender and a liquidizer column where spanking new fruit juice would be prepared and served. People can also enjoy the advantage of a phone-charging column, and the icing on the cake is the cavern of columns with swings for kids.
This design has created a real mark with its fresh new edge that's both homage and a critique to the architectural designs of the 60s and 70s. Hence, no wonder why Mr. Barry Bergdoll, the Chief Curator of Architecture and Design at the Museum of Art has found it amazing and the best to win the opportunity. According to him,
I wouldn't be surprised if the plant palate changes a bit, but its conceptual infrastructure is so strong — it's such a radical and on some level outlandish idea — that these modifications don't fundamentally change it.
This huge project is calculated to chip in around $85,000, and the final construction will also include a consultation with the Horticultural Society of New York and with the Queens Botanical Garden.