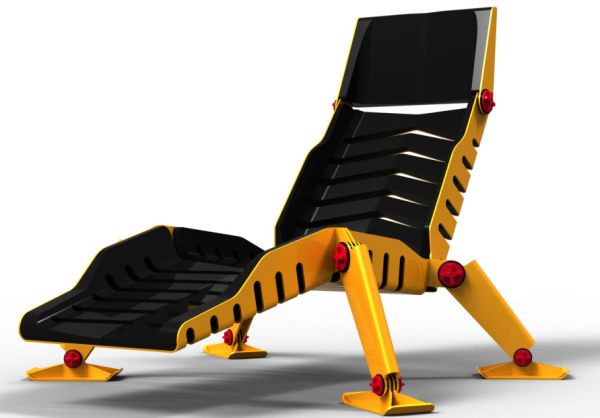 A warm sunny afternoon is perfect for relaxing outdoors. Sinking into your own thoughts while looking towards the blue sky will make you travel in another world. To soak you in a harmonious state is the Bulldozer Lounge Chair, designed by Mark Goetz and Efe Buluc.

The designers have fashioned a lounge chair, which boasts of being extremely comfortable. Made from aluminum, the outdoor accessory will remind you of a bulldozer that moves at snail's pace. But don't get fooled by its rocky looks as it is a perfect way of lounging in the kindliness of the sun.
The duo feels that Bulldozer Lounge is a perfect blend of novelty and industrial components. They have churned their creativity in an imaginative way and not like the usual nature-derived inspirations. The aluminium elements have been fused well with neoprene upholstery, which adds grace to the piece of outdoor furniture.
So, chill out and enjoy in a stylish manner with the Bulldozer Lounge Chair. It will make your outdoor experience all the more relaxing and pleasurable.
Via: Mocoloco