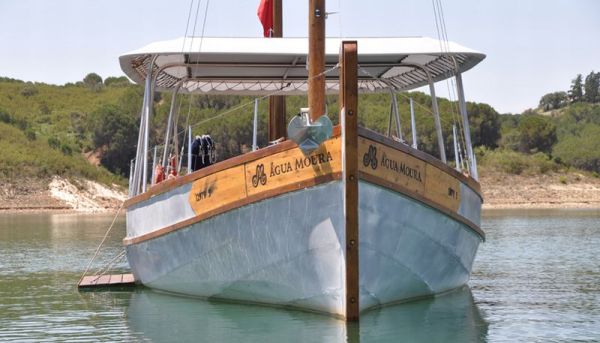 Want to enjoy an eco friendly cruise through the Santa Clara lake? Here is an ideal boat named, Agua Moura, which runs on solar power instead of the conventional fuel. You can enjoy the tranquility and splendor of the lake moving in the vessel that does not spoil the nature and the water.
Agua Moura, designed by Victor Vicente, is a vessel for voyages seeking the real beauty of the environment. On moving along the waters, you can feel sublime satisfaction that you are not harming the quiet and calm ambience of the Santa Clara dam. The wildlife and water creatures are also safe since the boat does not pollute the water with fuel exhaust.
The eco friendly boat can carry twelve travelers. Agua Moura has a spacious dining area, bathing platform and enhanced safety options. In the dining area, guests can have their favorite foods while enjoying the green nature and majestic scenery outside.
As the boat moves past the beautiful scenery, passengers can take bath on its wooden bathing platform. Enough water is available for bathing from the lake. When the safety measures are considered, the boat has exceeded in standards for its class. There are also sufficient toilet facilities on board the tourist vessel.
Agua Moura has a length of 12.40 meters and it was built in 2008 by Ecobuilders, the well known environment friendly site builders. The solar panels of the boat have to power two electric engines. The boat has a cruising speed of 5 knots.
Via: Ecobuilders