When we think about recycling, most usually think that it is an act of sacrifice. We imagine that just because we are doing some conscious effort for the environment it is some sort of a charity and we cannot expect anything from it. However, this type of thinking is completely wrong. Recycling not only helps save the environment, moreover, it also helps you save money without sacrificing on the aesthetics and utility. The only two things that make people avoid recycling are their preconceived notions about it and their laziness. We bet that after reading this article you would reason enough to overcome both. Take a look at this chandelier made of used beer bottles and other recycled chandeliers. If you want to design a new chandelier at home, there's plenty and enough for inspiration.
Read More: Everyday objects used to create lovely chandeliers
Chandelier made of used beer bottles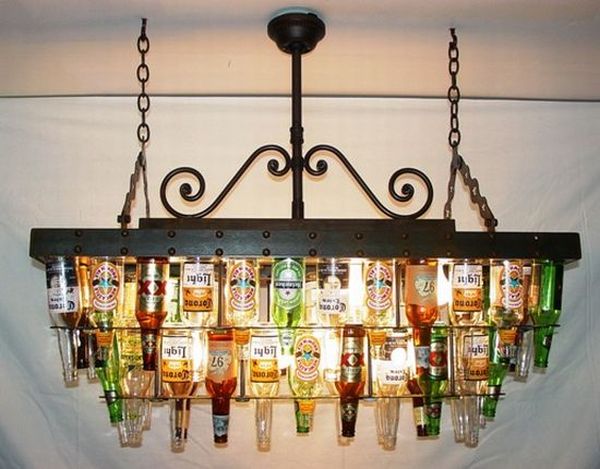 Did you have any better idea of using your used beer bottles than this? It is quite amazing and unique idea to use your beer bottles to make a chandelier. The design is completely different, is two-tiered and includes 52 beer bottles for the chandelier. The design is customizable and you can make changes according to your wish. There are eight light bulbs in two levels for the lighting purpose. This does not include the beer bottles and you can send your own used beer bottles and now you don't need to destroy them.
Whatever is the use but this is for sure that these designs are going to ease quite a bit of dump wastage on this earth. A better reason to recycle the beer bottles even if the design is not very creative or decorative for some people. You can alter the design if you desire but the main purpose of reusing the beer bottles in an artistic way is to do something environmentally friendly. You can design more such items and think over them so that you make and reuse the best out of waste. A positive aspect for beer drinkers and if they justify it, can you deny?
Via: ecofriend
Some Other Innovative Chandlier Designs
1. AKIKO Asymmetrical pendant chandelier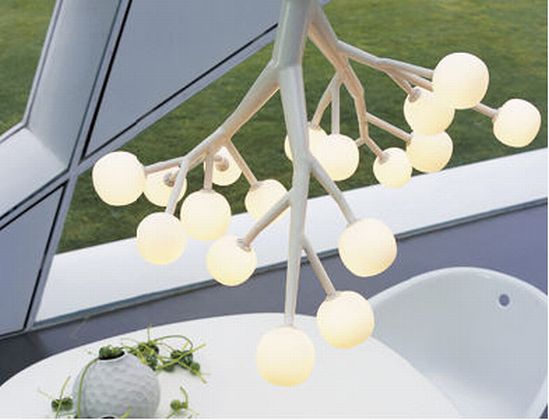 Created for Habitat by designer Claire Norcross, this amazingly minimal AKIKO Asymmetrical pendant chandelier fills almost any room with all the elegant charm of an early spring bloom. Shaped like a giant bunch of ripening berries, this white powder-coated metallic branch features a delightful cluster of lights that add a dramatic new dimension to almost any room. The chandelier/pendant lamp instantly becomes a strong focal point in the room transforming almost every other decorative item with a bright splash of life-inspiring light.
2. Party Popper Chandelier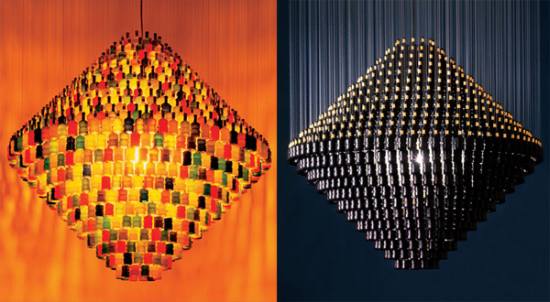 Great news for party animals, have a look at the tremendously build Party Popper chandelier. The dazzling firework would be the right way to welcome New Year!
It would be a Millennium celebration in London infecting the crowds with colors of excitement. Suspended individually, each popper would blast energetically. Sure the light designer was in a sway mood creating such a sculptural shape. You would lose your temper when it blinks like a planet on the solar eclipse.
Discovering one like this is more than an escapade. The colors of the party poppers are seen multi-uniformed. Well, the way they hang like disciplined soldiers would leave you flabbergasted.
The light designer is Stuart Haygarth.  This piece speaks, the more you gaze at it. Take note of the traditional style hanging appearance using rigid spectacles.
Furthermore, the chandelier has several layers of lens, to fabricate dynamic light effect. We expect this year's season to end, bringing down the new season not so calmly but with the blast of this party popper.
3. Designer bamboo chandeliers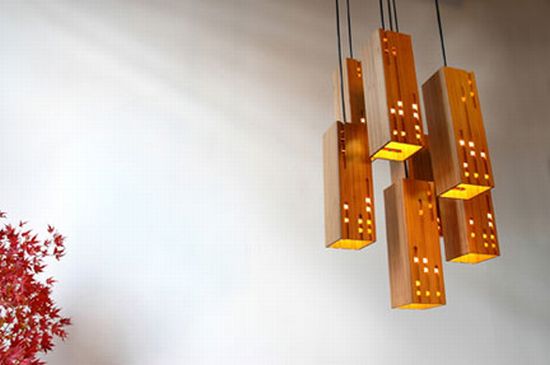 Are you ready to turn your home into a hermitage, or a chapel with a peaceful yet stylish look? Or do you want to do something new about that specific corner of your home with which you are so absolutely in love with, which relaxes your brain and body? Or are you in a desperate need to add to the decor of your home to show off to you friends for the New Year's Eve party? What about a new chandelier?
We can use Bamboo in a lot of ways to decorate our home. What is so different about this chandelier or branched lighting fixture? What other than the radical designers of this piece of ornate hanging is so special?
Toby Baratt, Pamela Goddard and Nik Rust, designers of Propellor Design have this time come up with a group of seven bamboo pendants with walnut oil finish, lighted with compact fluorescent bulbs. It is 16″ x 16″ x 30″ in dimension and it constitutes mainly of recyclable and reusable material. This eco-friendly piece of absolute interior decor will light up your home and give the message how environ-friendly and natural the taste of the owner is. It already is rocking the market.
So, what are you waiting for, show your taste and light up you special corner or gift one to your envious neighbor!
4. Flora chandelier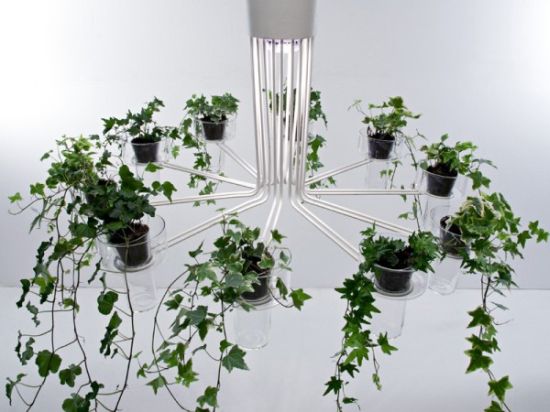 If you are looking for something stylish for your home that could show your eco values and at the same time add a touch of class, then you should be looking at the Gumdesign's Flora chandelier. Designed for TrediciDesign, this plant chandelier is made of metal and glass, and features a bulb housed in Osram Floraset that projects the light down to the centerpiece. The illumination produced is fit both for interior lighting as wells as well-being of plants hosted by the chandelier. The whole process creates a show of light and shadow between the metal rods and your guests won't be able to close the eyes to the spectacle. The end of each branch of the chandelier has a glass pot that holds your plants.
In nutshell, the Flora is simply beautiful and green. All you need to do is select your favorite house plants to add to the overall aesthetics of the green chandelier. The Flora chandelier will be showcased at the Salone Internazionale del Mobile, the world's biggest design and furniture fair.
5. Century Chandelier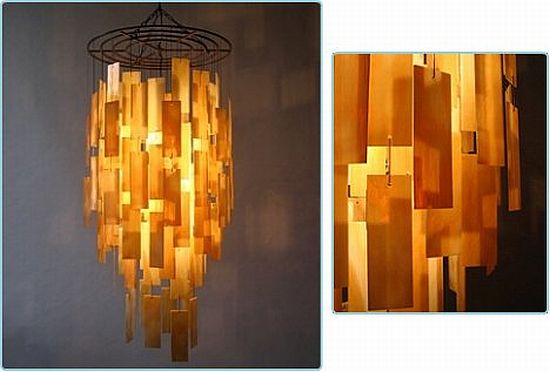 Chandeliers tend to be extravagant and profligate. They are something that you'd rarely associate with sustainability and energy-savings. Propellor Design based in Vancouver obviously disagrees. Its chandelier designs are not only beautiful but they also tend to rate high on sustainability chart. Their latest design the Century Chandelier was unveiled at last week's Interior Design Show in Toronto and it met with much appreciation. The design itself is striking with a great blend of traditionalist and modern elements but the sustainability concept finds its due place.
Made of eco-resin or art glass, the panels of this chandelier produce very interesting lighting effects. Of course lighting is done by compact and energy-saving CFL's. The design company has some very interesting projects to its credit. All of them highlight an underlying motif of sustainability coupled with beautiful designs. Century Chandelier is yet another superb creation by Propellor Design.