As some wise man once said, 'I love the smell of coffee in the morning. It smells like victory'. If like us you too go by this saying then we know how much a cup of coffee means to you. Furthermore, this love isn't limited to your cup of coffee. It goes on to envelop everything that is related to your cup of coffee. No matter whether it the friends with whom you drink coffee, your coffee machine or your coffee table. You love everything. All these symbolize the peace that a cup of coffee brings into your life. Keeping this very fact in mind, designer Steffan has designed this IKEA coffee table with a miniature train set inside.
Read More: Don't drink but smell coffee to pep yourself up
IKEA coffee table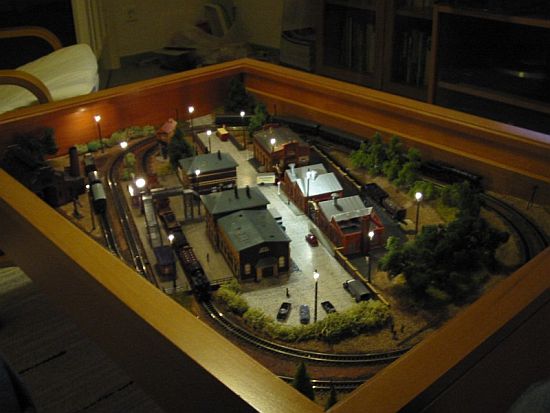 First, we got to see the Swedish furniture giant IKEA turn the Kobe Portliner Monorail into a mini showroom. A major riot of colors and now we have a fan turning his IKEA coffee table into a full-fledged train set display! Astonishing as it is, but this mod artist who has been identified only as Steffen so far, has managed to build an entire train model inside a coffee table. It is complete with a well lit train station, tracks, a part of the suburbia, trees and even tiny people moving about on the station! Amazing detail man, simply amazing! Catch more shots of the stunning coffee table after the jump.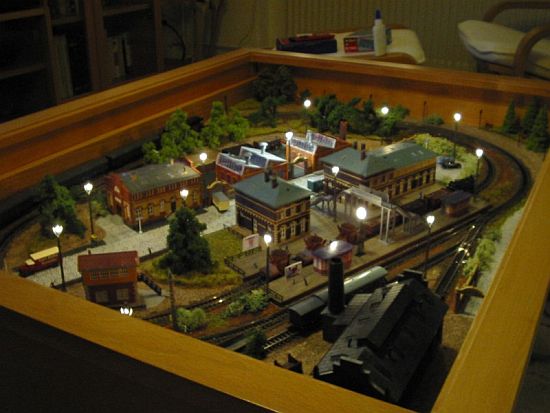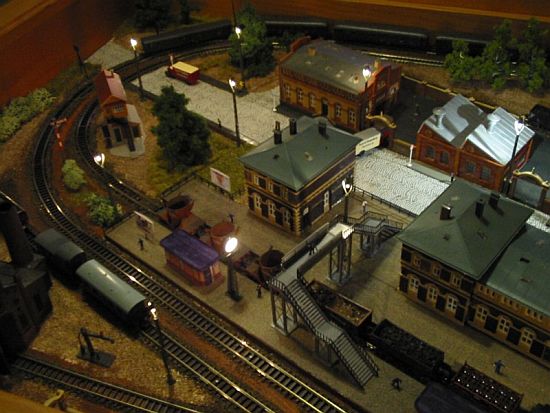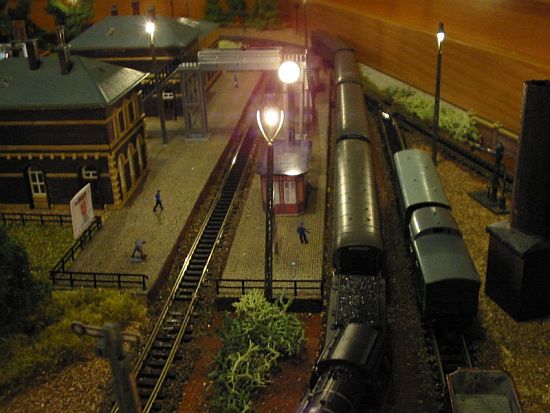 Source: IKEA Hacker
Some more innovative table designs similar to IKEA coffee table
1. Bellato Round Coffee Table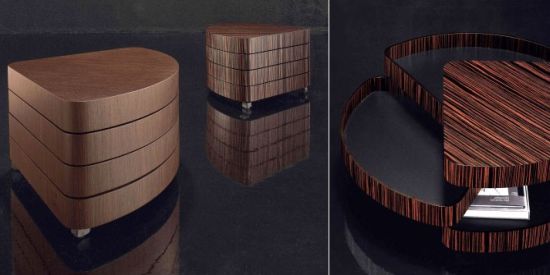 Displayed at Salone Internazionale del Mobile, Milan, the Bellato Round by Luciano Bertoncini is a functional furniture unit. Apart from being a coffee table, it incorporates a number of smart shelves/ drawers underneath. These help to store small objects, otherwise lying all over the places in our homes.
Manufactured by Bellato, the modular table features a fixed upper top with three hollow lower surfaces. These bend easily to the needs or decor of the home can rotate to a sharp 360° angle. Ideal for contemporary city apartments, the table cum storage measuring 59.5cm x 59.5cm x 37cm (WDH) is available in wenge, ebony and white & black ebony finishes. The Round Coffee Table also includes whirling wheels, so you could move it around the living space with minimum fuss.
2. Spring table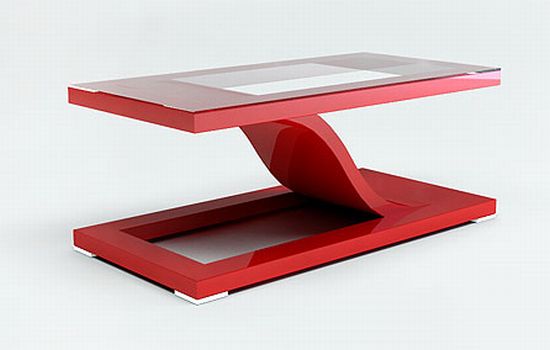 Finished in natural materials, the "SPRING" from Pure Design is a coffee table concept. Other than enhancing your home decor, it also lets the user lead a sustainable lifestyle. Presenting a sleek and minimal design, the ecological furniture features a clear glass top measuring 100cm in length 50 cm in width and 6 mm thickness. Furthermore, the glass top is made from toughened (tempered) glass that rests elegantly on the wooden base or legs painted or varnished in different shades. Available in red, black, white, gray or natural wood, the dynamic coffee table is easy to assemble or collapse. So you could move it from one place to another with ease. If you don't want the glass top, you can order it with solid worktop as well.
3. Coffee table with built-in speaker system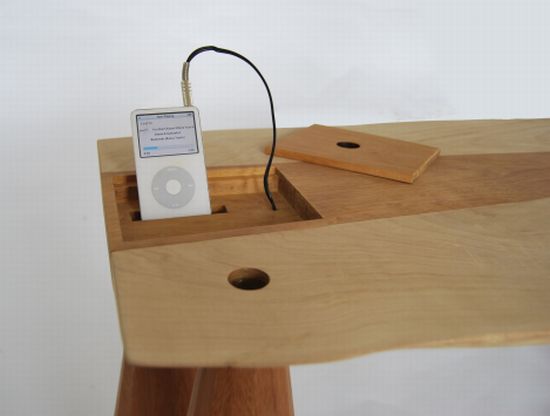 Converting home furniture into a sound system, British designer Mike Lonsdale has designed an innovative coffee table. It integrates four omni-directional speakers as legs, allowing surround sound. Made in Chestnut and Tatajuba, the coffee table carves a dock into the surface to conceal the wire and your music device neatly underneath the lid. Compatible with iPod, any PMP or laptop, the speaker system connects to your devices through a regular sound jack. When not in use, you can remove small and tidy power cable with ease. Available for £800 (about $1200), the new coffee table enhances your experience with built-in speaker system.
4. Chic Serpent table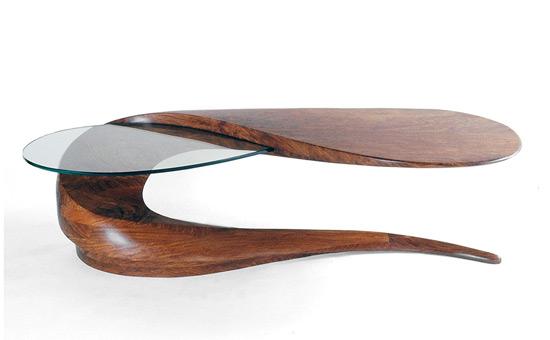 Looking for something unique to dress up your living room or sitting room with? Then, do check out this Serpent coffee table made of Bubinga wood, glass, and plexi support base. The fluid shape of the 72W x 24D x 17H (inches) table gives it a very chic but classic feel. Go ahead and get this Serpent coffee table for yourself, and enjoy your java cup with friends and family…after all, a lot can happen over coffee!
5. Gorge Table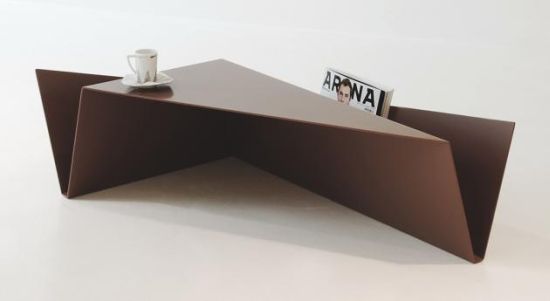 Furniture being an essential part of your home decor is designed to give an aesthetic look to your space. Giving a new dimension to home furniture, designer Ramei Keum has come up with the unique and stylish "Gorge Coffee Table." As the name implies, the table is gorge shaped with a narrow cleft and steep sides folded in a V shape. The Korean designer has come up with a different concept of table, configuring the top board and legs as one component, rather than two individual elements. Made out of powder-coated steel, this table not only plays an architectural role of supporting the top board of the table but can also hold magazines and books, completing a creative form of table.
6. Coffee Table goes green
How about enjoying the sips of coffee while looking at your favorite flower plants? Indeed, this wooden table has three steel pots that can be used to plant flowers. The table inspired by Nakashima, makes your coffee table completely distinct from usual coffee tables. You can put this table in the living room, and the fragrant plants will keep your nose happy all time. Lavender would make a stunning scented coffee table so long as the light is good in the room. In the summer, this is a good way to gain a feeling of greenery in your home.
7. Glascade Table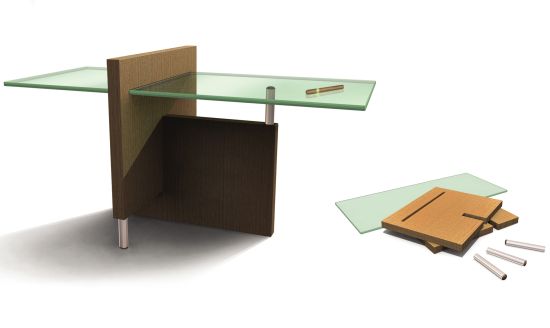 Based on the principle of divine proportion, the Glascade by designer Jake Garvey is a functional coffee table for contemporary drawing rooms that when not in use packs flat for easy storage as well as transportation. Made from hard maple or mahogany, glass and aluminum parts, the collapsible coffee table breaking away from conventional furniture features a knockdown base, which gives it a modern look. Drawing inspiration from the De Stijl style, the Glascade coffee table is not just functional but also boasts a sleek and smart design that will give an entirely different look to your living space.
Read More: Understanding the benefits of freshly roasted coffee