Futuristic furniture designs are imaginative and spectacular,as they reflect the designer's vision of furniture in the future. The use of geometrical patterns, bold metallic colors, and sometimes inspiration from outer space gives rise to mind-blowing designs. But sometimes, as they say, one man's favorite designs are another's idea of uninspiring and boring. Futuristic concepts have their fans and detractors, so here are a few ideas for you to decide whether you love or hate future inspired furniture:
Island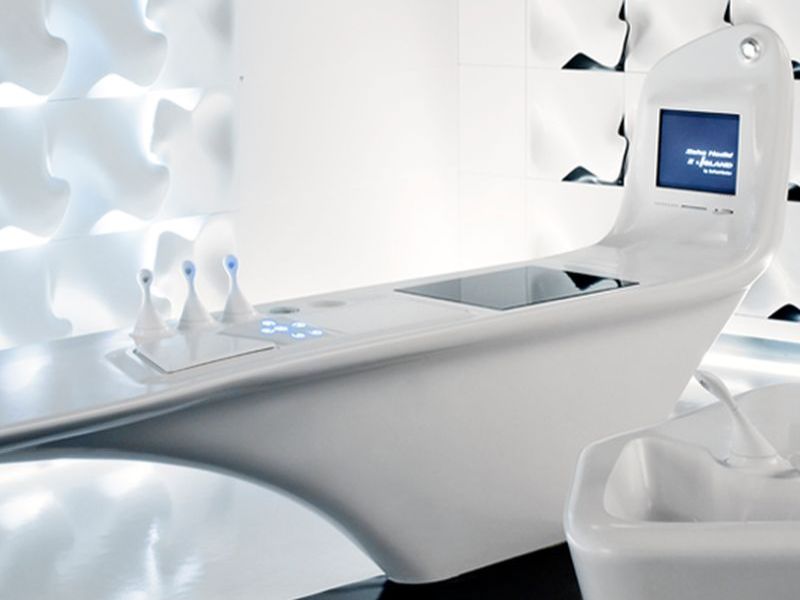 The Z.Island was designed by Israeli designer Zaha Hadid as a futuristic kitchen concept. The kitchen island has fluid lines inspired by melting ice and glaciers. It has a touchscreen panel for controls, heating membranes, scent dispensers, sound activators, multimedia entertainment system with state of the art TV, LED lights, and an Apple mini Mac. If she'd put in a bed, there would not be a reason to leave the kitchen! But apart from that, the Z.Island has everything that you'd ever want in a worktop, in a kitchen or anywhere else, on earth or in space!
Cloud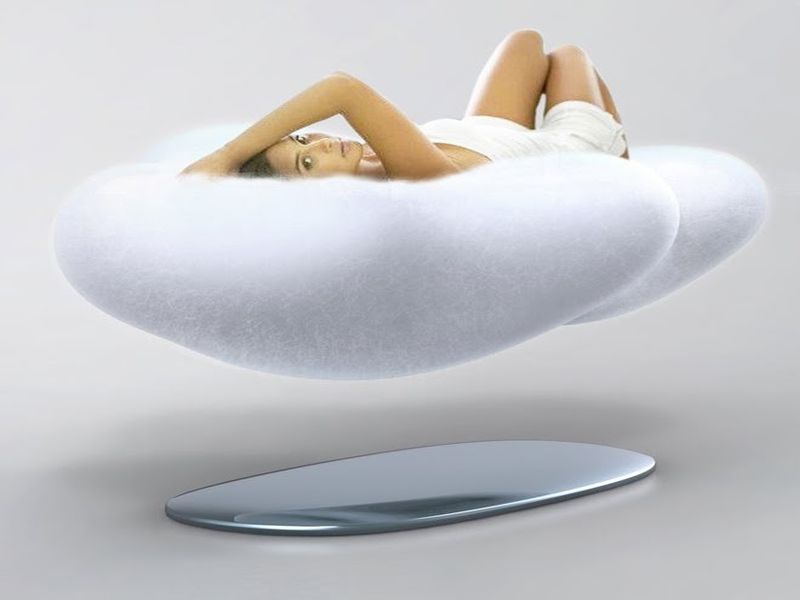 This is what floating in a cloud would feel like. This design looks really appealing – designed by Zheng Yawei and David Koo, this chair defies the laws of physics of Physics. Magnetic force is used to "float" / levitate the soft cushion of the chair so that you have the experience of floating on cloud nine!
Concoon bed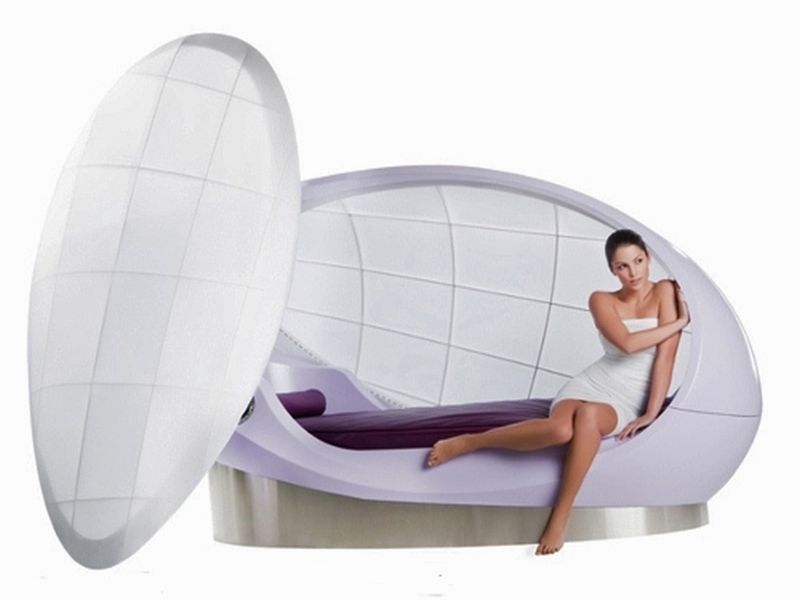 Designer Wasserbetten designed this bed being inspired by space, reminding us of intergalactic flights. This stunning bed is manufactured with innovation tech. The shape is like a yacht with in-built surround sound, water sounds, water mattress to impart the feeling of weightlessness. It also has therapeutic lighting, and with all these add-ons to the bed, it seems like a nice way to relax after a hectic day.
Affinity chair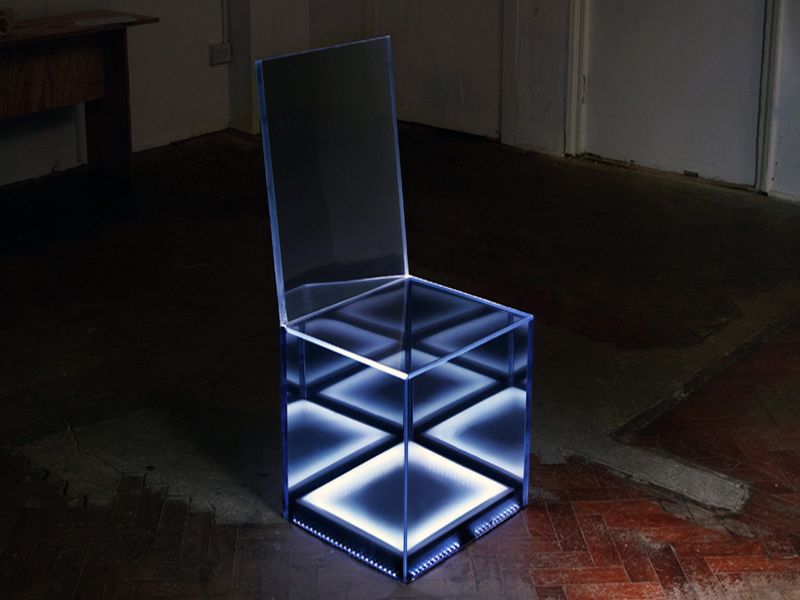 Invisibility is a concept which has fascinated most people and it seems so is designer Ben Alun Jones. He created the invisibility chair by exploring the relationship between light and space and this chair merges completely in the background when alone, seemingly invisible as it hides itself in the environment. It is made with acrylic, plastic, mirror film, ultrasonic sensors and LED lights. It has a futuristic feature of being able to interact with people by flashing the LED lights as you get nearer to it.
Kure dining table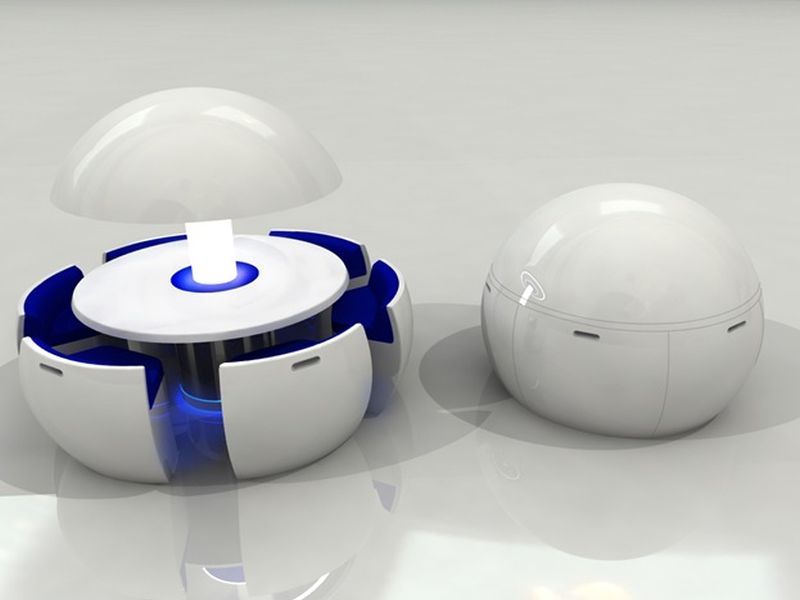 Faith Sarioz was probably inspired by the Jetsons. This dining table is certainly something which you have never seen before. It is shaped like a sphere, and can be closed as a space saving measure. This spherical pod-like table opens out to seat six people. It has a light in the centre as well as the blue glowing light at the base of the table. Maybe this table will go well with other spaceship inspired décor.
Ecotypic bed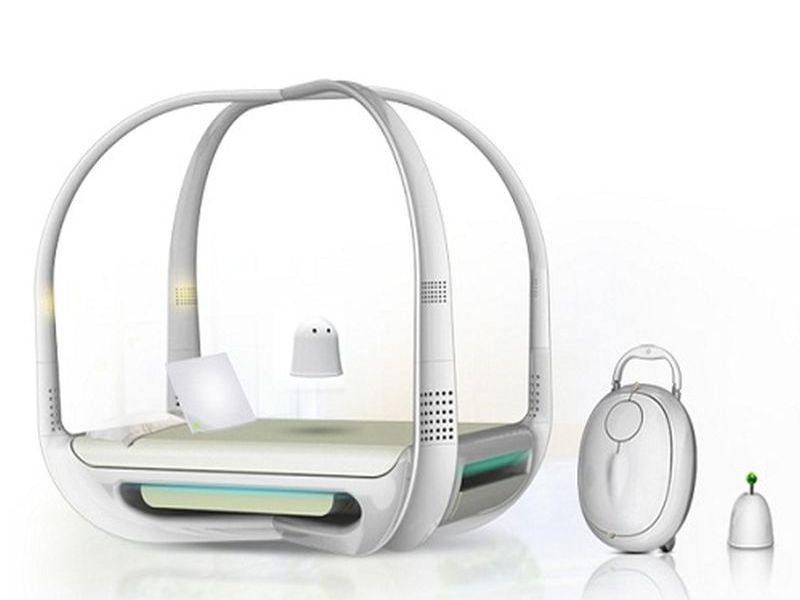 Arthur Xin designed this bed which introduces us to the next gen eco sleeping and living. The highlights of this bed are the integrated plants supported by an in-built planter which are helped to grow by LED lights built in the bed. You can be lulled to sleep by the music that is played on the speakers embedded in the bed. The bed can generate the required power by itself which makes it totally eco-friendly. 
Melting point stand for TV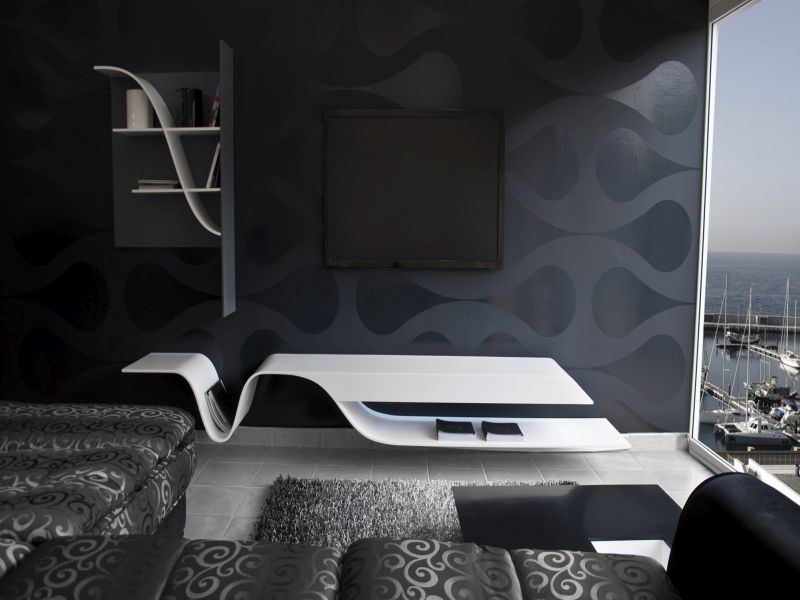 This unique TV stand's designer Erhan Afsaroglu was inspired by the shape of a droplet of water before it hit the ground. The seamlessly smooth stand was made using LG Hi-Macs. Wall-mounted, this unit seems as if it's floating, with the LED lights lit underneath amplifies the floating effect.
Vesna sofa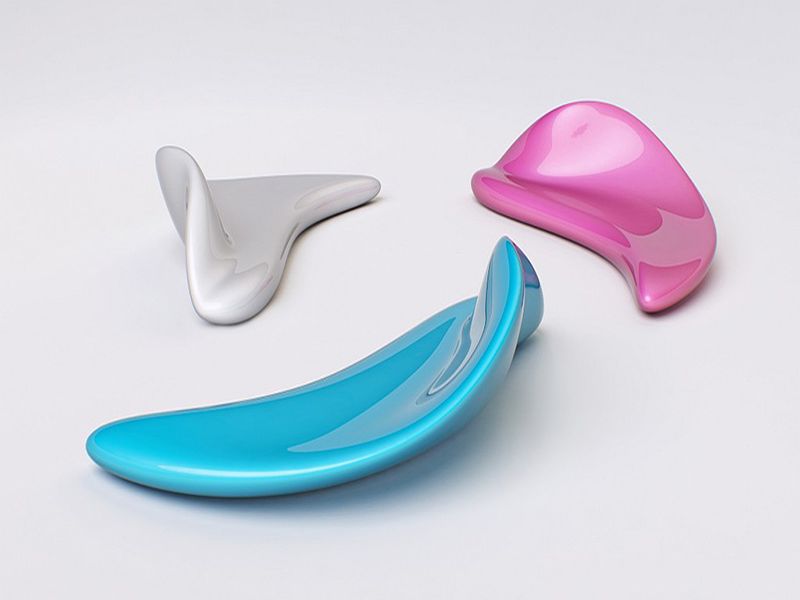 Designed by Nuvist Architecture and Design, this sofa has a shape which is contemporary and the colors are dazzling – shocking pink, metallic yellow and turquoise blue. It's quite eye-catching and seems relaxing and comfortable. It can fit in both indoors and outdoors, and it's bold and elegant shape does look like something from the future.
Futuristic home furniture concepts are interesting, beautiful, functional and eco-friendly, as designers use the latest tech to create unique shapes and materials. But it's completely up to personal taste which can make you either love or hate these futuristic designs.