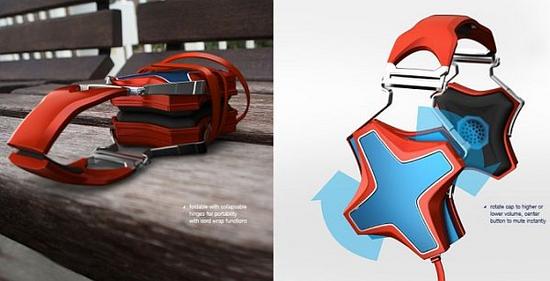 Arcade is here to bring the world of music to your ears. This premium audio brand has been specially crafted for sports enthusiasts. Product designer Grace Lee has designed it with a pledge to offer a high end product that will capture your senses in no time. Lee has beautifully tapped the needs of sports enthusiasts, especially those into skateboarding, snowboarding and surfing, in age group 14-22. Arcade will come with user specific functions that can be used in extreme conditions by such sports enthusiasts. The products derive inspiration from various seasons like summer surf and winter snowboarding, to name a few.
Inspiration
Arcade is out with its first series of snowboard headphones called model 'X'. A lot of things have to be kept in mind while designing a product that will be used for snow. When in snow, headphones will always be in contact with wet components. So to control moisture, all the parts have to be rubber coated that create a barrier through which water cannot pass. It should also have ear foam that will give a comfortable fit. While surfing a person wears gloves so turning the volume up/down or pressing it to mute can prove to be a real task. To make it easy, the earphones should have over-sized buttons on the exterior. The earbuds should come with independent volume buttons plus for instant mute there has to be a pivoting earpiece. Headphones can easily fall from the head while surfing. So to ensure that the user does not lose them, it should have a securing element and a lease that will fix the headphone to the user.
Keeping all these factors in mind, model 'X' consists of four products namely, over-ear studio headphones, on-ear headphones, earbuds and speakers. All the mentioned products have been carved in the shape of the alphabet 'X'.
Over-ear headphones:
This eye-appealing piece will make sports lovers, who are great fans of good music, drool over it. Pegged at $85, the cord can be easily wrapped around the body and, hence, is not messy. Volume can be easily adjusted. Simply twirl the external headphone cap and turn the volume up/down. Pressing the center button will put it to instant mute. To increase volume, rotate the cap in forward direction and to decrease, simply twist it in the backward direction. It has large holes carved, which can be adjusted up and down by putting the finger in it even while wearing gloves. Storing the headphones won't be a trouble as they are foldable. For extra durability and portability, its hinges can be collapsed.
On-ear headphones:
These cute looking headphone come with a price-tag of $45. It can be stored easily, thanks to the collapsible hinge in the middle of the band. The headphone has been crafted out of rubbery plastic substance that will make it more durable. This will protect it from any kind of injury and will make it scratch resistant as well.
Earbuds:
Normally you must have seen that the cord earphones intertwine in such a bad way that it becomes very difficult to disentangle them. To cut all such worries, earbuds come with flat cables that will put a stop to this tangle trauma. Even this is shaped like 'X' and has a control capsule. This capsule has a system to control volume. It comes embedded with a mic, mute and answer/end call functions. To own one, you will have to shell out $30.
Speakers:
If you don't feel like covering your ears with an earphone or a headphone, then these speakers will definitely win over your senses. Their unique shape and sound delivery is worth mentioning. The limbs are shaped in specific angles, which will make it possible to place it in any position and will allow multiple orientations as well. These speakers are priced at $85.
So, all you sports enthusiasts, pick the one that best suits your personality.
Via: GraceHinaLee