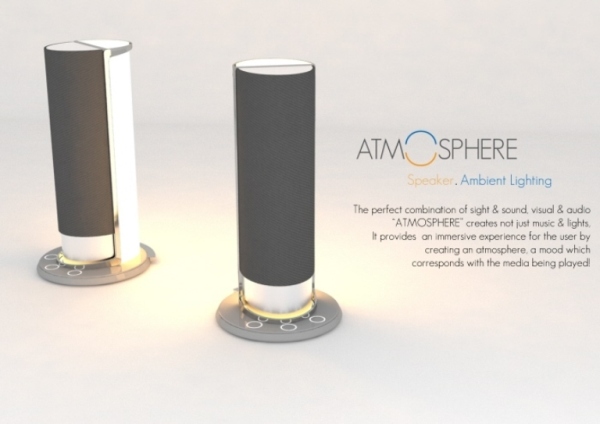 "Atmosphere" is a dual function device that consists of a speaker and LED lights. This speaker light is designed and made by Chee Yin, an industrial design student who lives in Singapore. Atmosphere works as a speaker, light or both at the same time. It produces clear and optimum sound surrounded by soothing light so that the person can enjoy music with comfort.
Atmosphere features a smart design that allows the user to set the color of the light according to the tone or rhythm of the music. The Atmosphere consists of three touch buttons: to increase the volume, turn the device on/off and to change the color of the light. The Atmosphere can produce VIBGYOR colors (rainbow colors) from four LED lights.
The outer cover of the Atmosphere is made from plastic, stainless steel, fabric and aluminum. The Atmosphere can be connected to TV, laptops, MP3 players or any audio and visual input for power.
The four LED lights in the Atmosphere act as RGBY channels, which yield all seven colors according to your choice. The Atmosphere also has four speakers. The first one works like a tweeter that produces high-frequency sound, the second speaker works like a mid-range sound producer and the last two speakers work as dual woofers (bass).
The Atmosphere is a great addition to your home that loves the combination of the best light and music.
[Cheers Chee]