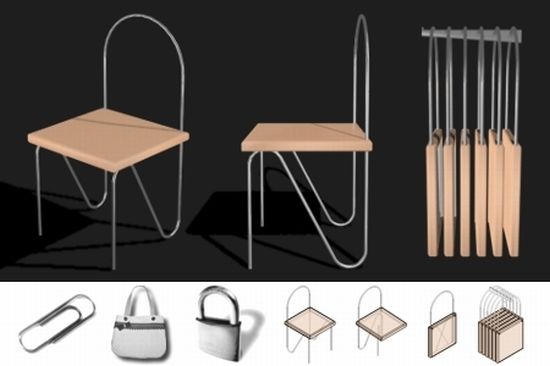 Insight:
I can bet that even in your wildest dreams you never thought about a folding chair that could be hung? Somebody else, however, did and the result is the "Attach" chair. Attach, is inspired by the simplicity of a paperclip. Keeping things relatively simple, Attach even incorporates paperclip-like lightness in its frame and bearing. A clean design, Attach has an aluminum frame over which sits a single wooden board. The entire chair can be folded up in a matter of moments – this happens by turning the legs of the chair and moving the cover deftly.
Usability:
Once collapsed, Attach becomes super-portable. It transforms into a structure that's less than 5 cm in thickness. Paperclip-design again comes to the fore as the frame can simply be hung off a wall, or maybe even carried along if need be. Seems a marvelous solution for seating in business establishments; anyone can just pick one and stretch it without occupying space on a permanent basis.
Designer:
Leonardo Schillaci from Roma. Find out more about him on his official space.
Via: Youngdesigner.it