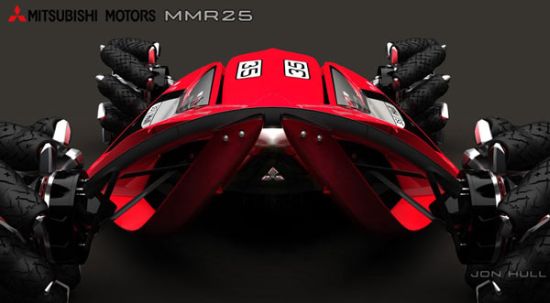 Design Status:
MMR25 is a concept rally car for 2025. It may actualize even later, given the level of technological sophistication it requires.
Insight:
The year is 2025 and we have race cars that set tracks ablaze with their ferocious looks alone. LA Auto Show this year has a theme of "Motorsports in 2025" and MMR25 rally racer is an entry by Mitsubishi. MMR25 comes with a description that's beyond reality, just like its renderings. A look from the rear and MMR25 is a bad-ass robotic insect of some sorts.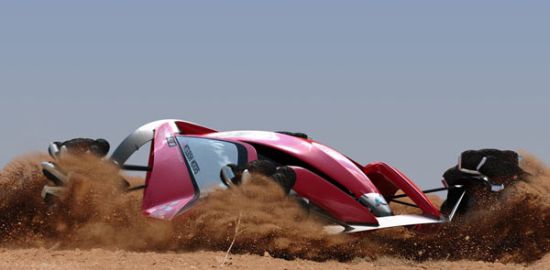 Mitsubishi has described MMR25 as an electric rally racer working on batteries that give 1,000 miles on a single charge. It is an omni-directional vehicle that can move along any axis. This power train has four in-wheel electric motors, and eight supplemental motors in each wheel. Each wheel has eight motors within, making movement possible in any which way (drive sideways, not drift, if you want for, all Mitsubishi cares). In effect, therefore, there are 32 freakin' wheels! Glass windscreen has been dispensed away with, instead the driver feeds on a 360-degree screen that displays images from cameras mounted on the vehicle. Removal of glass reduces weight of the vehicle considerably and front and rear spoilers – made of Special Memory Metal Alloy – act as suspension blades.
Usability:
MMR25 is not meant for roads – period! It is meant to kick up a storm in dust tracks and feed millions of crazed-fans who gobble the telecast of rally that MMR25 is participating in; solely to see the alien vehicle in action.
Via: Gizmodo