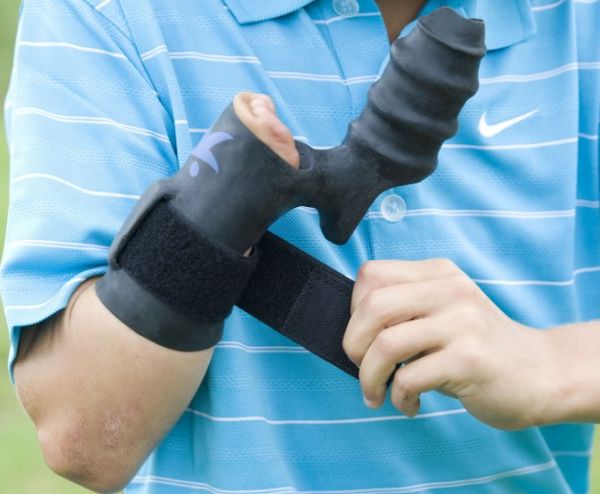 Remember the astonishing story of the South African Blade Runner and the equally breathtaking tale of the adorable Baby Blade Runner? Well, 10-year-old Leo Millar is all set to follow in the prosthetic footsteps of those two incredible people, only he is gonna be doing it with his hands! The golf prodigy was born with a birth defect that stunted the formation of fingers on his right hand although that certainly did not stop him from following his dream of becoming a golfer. The young genius is now being seen as a future pro golfer, thanks to a special bionic glove that has been created especially for him.
What is even more endearing about this story is that the boy only started to play golf just a while ago and in the seven weeks that he has been at it he has acquired enough skills to chip and put a golf ball like an expert. Leo's parents noticed their son's knack after he picked up his father's golf set in the family's garage and started hitting a ball on the green outside their house and showed considerable promise in the sport. This led the family to acquire the services of Bob Watts from renowned Dorset Orthopaedic in Ringwood, Hampshire, who developed the bionic device free of charge for the boy.
The flexible silicone glove is fitted to Leo's right wrist and cuffs him up around the arm, and can be tightened up with a Velcro strap. This allows him to grip any club and swing it with both hands. And swing it the Poole, Dorset native can hit balls past the 200-yard mark and the assistant professional golfer at the local club, Barry Mutter, thinks he has a textbook swing already.
Leo's handicap is also coming down rapidly and he is hard at practice to fulfill his dream of competing in the Open championship with his idol Rory McIlroy. The Royal and Agent, the game's governing body in the United Kingdom, has given the glove a green light declaring they had no problem with the artificial medical device in principle since its use is covered by the rulebook.
The sporty youngest is also a mere two steps away from his black belt in Karate and is quite the skateboarder as well, although he plans on sticking to golf for the time being.
Via: Daily Mail