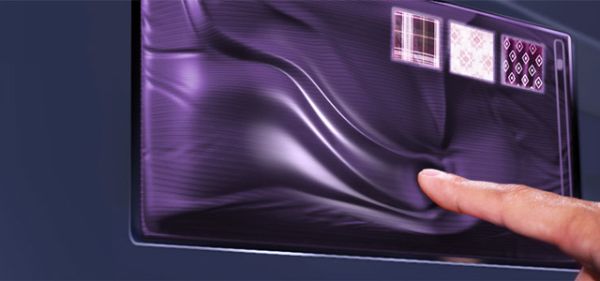 Surfaces of gadgets that are touch-sensitive, sell like hot cakes. They are effortless in terms of usage and open a lot of options for the users. But, majority of them is still dependent on mechanical vibrations to give birth to tactile sensations. Deleting the mechanical factor from devices is Finnish Senseg with E-Sense technology.
Senseg had swapped mechanical vibration with electric fields, which will be positioned on the screen. Subtle sensations will be created that will keep sound radiations and other spin-offs (a result of physical vibrations) at bay. A user will be able to feel all kinds of textures (rough, smooth, curved, flat, sticky, slippery etc.), thanks to the amazing technology.This is made possible because of the presence of an electro-sensory phenomenon that imitates textures. This will virtually make it possible to feel any texture in an ingenious manner.
The designer has made use of a fresh technology, which is called Tixels. This technology is not only restricted to touch surfaces but can also be exploited in other things like fabrics that we wear. Now, this is some piece of information! Tixels is nothing but 'tactile pixels' that will neatly produce an electric field in a controlled fashion.This feature will also extend a few millimeters over the surface of the device. Sensations will be created on the skin of a user, which will be a result of small electrical charges that will be permitted to go through the tixel elements. This in turn will make a user feel various textures.
E-Sense will make multi-touch surfaces all the more interesting. The technology can be easily embedded in small or large devices and will be loved by many. E-Sense is here to give 'The Power of Touch' a whole new meaning.
Via: Springwise