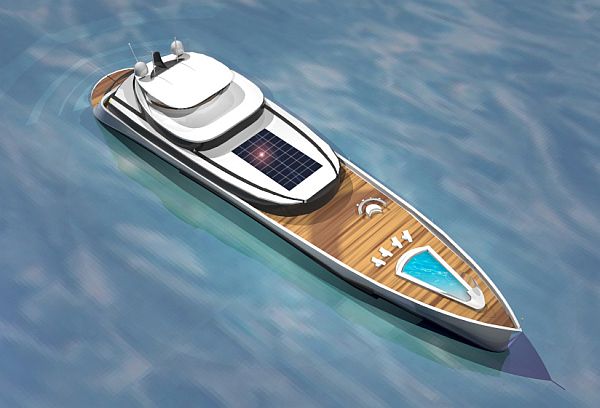 Yachts have always found a place in the category that defines luxury. Exploring the depths of the sea with all the opulence in place is definitely a treat. Aras Kazar Designs studio is out with a mega-yacht concept christened as Blue dream II, measuring 67m (220ft) in length and has a range of 2500 Nautical miles. The yacht is special in its own way as it has a solar panel wedged on its roof which makes it eco-friendly. It skillfully converts rays of the sun into energy that fulfills 100% electricity requirements.

With a maximum speed of 30 knots, the whole structure comes enveloped with glass which provides a 360° scenic view of the ocean. This makes sure that nothing comes in-between your viewing angle. The side and the front glasses come with a flexibility of being opened. Such a feature ensures that you get a covered as well as open mega-yacht experience. The yacht has four levels which will make you experience magic with all they have to offer. An open bridge has been put up on the top deck. A U shaped sofa has been placed where you can sit and relax; admire the nature while sipping your favorite drink.
If you think that the top most deck yells comfort, then wait till you learn about the other three. The second deck incorporates a covered bridge that has a grand suite including a Jacuzzi. It also includes a private office and the bar separated from the captain's bridge. The third deck will let you entertain and socialize. It has a generous lounge, two Jacuzzis, a formal dining area convertible to conference room, library, and gymnasium including 2 guest cabins. It is a source of complete entertainment. Feel like reading a good book/ writing, working out on your darling treadmill/ pumping iron, hanging out with friends/ tapping you feet to your favorite tune, the third deck will provide all. Now if you are going to explore the sea, its obvious someone or the other will accompany you, be it friends or extended family. The last deck makes sure they get to relax as well as it has 2 cabins for 6 guests that act as guest accommodations.
If you like a relaxed swim then the sunken pool is the place where you should be. The pool is protected by the glass shield from the wind and the UV lights and one can enjoy even if the yacht cruises in the open sea. The hull has been carved out of steel whereas the superstructure is all aluminum. With a cruising speed of 20 knots, Blue Dream II will provide quality and high visual satisfaction in a single package.
[Thanks Aras]