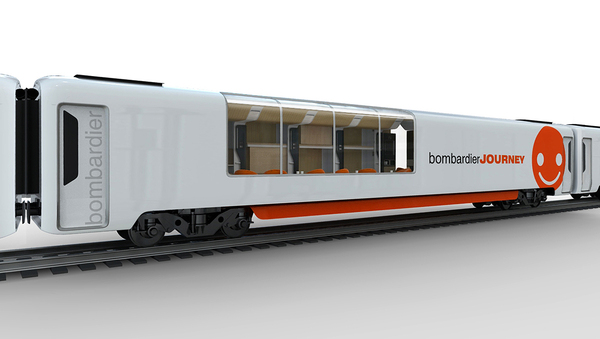 Long route journeys, especially train rides can leave us feeling very tired. Public vehicles always force us to compromise on the comfort level and don't offer much space. Now, to make the whole experience blissful, Andrey Chirkov has come up with a railroad car named Bombardier.
The designer has kept the privacy of passengers in mind while designing the railroad car, which resulted in a sumptuous end product. The spacious interiors will bestow freedom of movement and let passengers enjoy the journey. The seating arrangement is quite impressive and will help soothe those frazzled nerves. Chairs are moveable and can be placed in groups for a hearty chit-chat session. Even the tables can be moved and made to rest against the walls for more free space. Enjoy a panoramic view through big windows, which will also let natural light kiss the interiors during daytime.
Each wagon has two shower cabins and two toilets positioned at the end. They are quite hygienic and come draped in a neat look. A separate compartment has been made to store luggage, like in airplanes, which is called the cargo hold. Passengers can take small-sized baggage (in the form of bags) inside the car. These can be kept at the top or under the lower shelves. The wagon can be split into two separate rooms that can be used for reading books, watching films or simply striking an interesting conversation.
Bombardier has a private area that is well separated from the public space with the help of a shutter. The private area is air conditioned and includes radio, liquid crystal displays, remote control, illumination unit with 220 Volt and a USB Access. A multifunctional touch display has been wedged in every cell that can be used to control the ladder, shutter and will display apt information about an area from where the train is passing. If you feel like having your favorite snacks or drink, simply go to the installed machines and put a full sop on your cravings.
Bombardier railroad car, with so many extravagant features, will be nothing less than a luxury ride!
Via: SlavaSaakyan