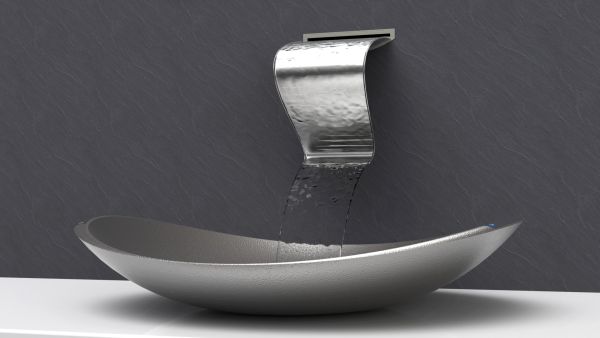 A well-designed home is incomplete without a good washroom. People, in modern times, are willing to spend on this area of the house, which was ignored a few years back. This has forced designers to make bathroom accessories nothing, but works of art. Ian Mayhew, taking this trend further, has designed a faucet named Surface Tension.
Like the name, even the designing is not regular and bears a distinctive look. It has been devoid of an open/close knob, and is fitted with a sensor instead. This sensor will automatically activate the water flow when hands are placed in the washbasin. The curvy faucet looks like a slide and manages to fetch attention owing to its simple crafting. Water will fall from the slide in style and will keep wastage at bay.
The sink that accompanies it looks like a cute, silver-colored bowl. It will come wedged with a touch control, which will be used by the user to adjust water temperature. Surface Tension clubs great designing with neat looks. It will act as a perfect option that will blend perfectly in any contemporary setup.
Via: Ianhmayhew