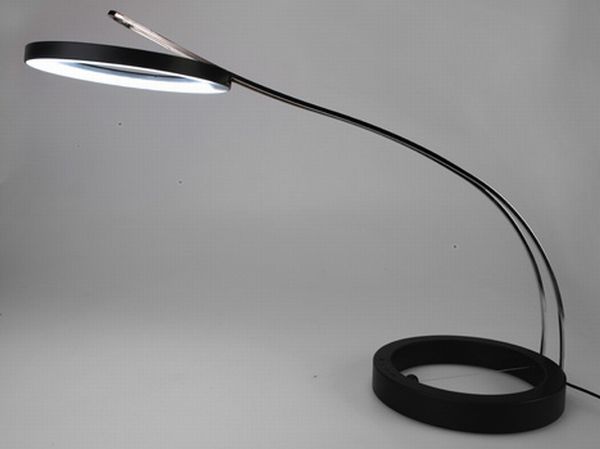 Desk lamps seem to be the new fad for industrial designers in the lighting options arena and we often see various designs and concepts on the same, but have rarely come across a design based on the electromagnetic concept with a very high aesthetic quotient. The latest creation in the area of desk lamps is a retro-futuristic desk lamp named "Geo Magnetic," developed by the Korean designer Hyungwoo Uhm. The desk lamp is a sleek creation with a futuristic appeal and its functionality is drawn from electromagnetism.
Resting on a black circular base and with a movable spherical head running through the thin loop of rails, Geo Magnetic has dual usage. It can serve as an illuminator for the desk and at the same time can also be used to create a romantic ambiance, thanks to the soft and dim lighting. It has a ball-shaped switch attached to a very fine thread at the base of the lamp. This is almost invisible to the naked eye and makes the ball look like as if it is suspended in the air. This spherical switch can be adjusted to three different levels to decide the intensity of the illumination and is used to turn the power on or off. The spherical head can move along the rails from top to bottom and rest on top of the base to ensure minimal lighting and hence create a romantic mood. The loop of rails supports and powers the circular head for the illumination.
The most striking thing is the usage of electromagnetism which makes this desk lamp clean and digital. The rails of Geo Magnetic in steel grey color with black base and movable spherical head are visually very appealing and have a modern charisma. The overall look of the lamp is very futuristic and unique. Geo Magnetic can be placed anywhere in the house and is sure to grab all the necessary attention. The adjustable illumination gives the desk lamp another high.
The designer surely deserves accolades for the marvelous creation as Geo Magnetic scores high in the category of desk lamps that are decorative as well as functional. It is definitely going to illuminate innumerable homes all across the globe and is going to win numerous appreciative glances as users can create the magic of lighting with the magical Geo Magnetic. A thumbs-up from my side!
Via: Core77