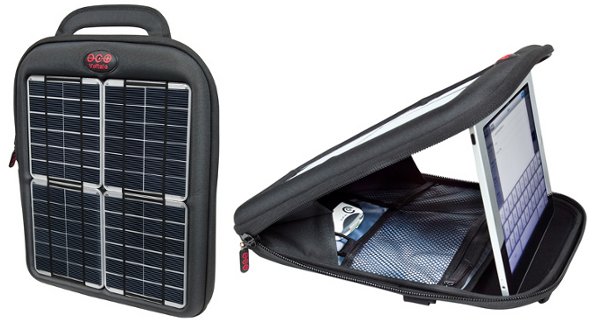 Charging your iPad has become a lot easier with the help of the solar tablet case. Voltaic Systems has introduced the iPad solar charger, Spark Solar Tablet Case that can enable grid-free computing. It is perfect for people who are always on the move and keep working. For every hour of the direct sunlight used the Spark provides one hour of video playback. It will charge the T-Mobile G-Slate, Blackberry Playbook, the ASUS transformer, Samsung Galaxy Tab and many handheld electronic devices.
When the sunlight is not available it has a backup of an internal battery. It can be charged using the car or wall charger too. The best thing about the case is its lightweight and the speed with which it charges the tablet. The design of the case is elegant and simple and mostly, matches well to the tablets. It is the best way to carry your iPad and charge it whenever you require. The company has also launched the V39 USB battery that provides the power backup for tablets, smart phones and iPads.
The front side of each case has four 2-watt solar panels. The amount of charge is usually determined by the efficiency and total area of the solar cells. The Spark makes use of high efficiency monocrystalline cells that can charge an iPad in about 10 hours. The specialty of the cover, the rugged panels, is waterproof and has the ability to protect the device from most kinds of abuse.
Most of the tablets can charge very fast using high-powered USB ports that give 2 Amps and is four times the output of the standard USB port. The Spark has a high-powered USB port for tablets and a standard one for phones and other handheld devices. If you charge a tablet, quickly, it also can be used for charging a professional DSLR camera.
Connect it to a car charger cradle for charging the camera battery and the solar output of the Spark. You can switch between 6 and 12 volts. The case is lined and padded for snug and soft fit. You can use the handle for holding it or even use the shoulder strap. if required you can also place inside the backpack or any other bag.
The Spark solar case comes with 8 watts solar power and can switch between 6 and 12 volts through it's silver or charcoal panels. It's 39 watt battery comes with low and high power USB ports. The charging cable has 5 standard adapters for connecting to many handheld devices. The device measures 13.5 x 10.5 x 2 inches and weighs about 2.5lb with solar panels and battery. It is made up of waterproof material and recycled PET.
You can buy the case and the battery from the Voltaic Systems website and a few retailers. For more information on buying these products you can check out their website.
Via: Engadget