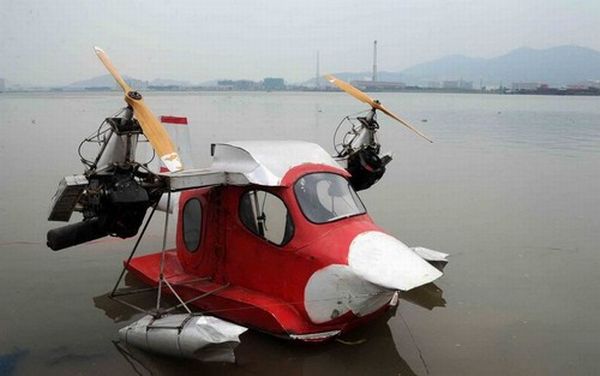 Here's a story about perseverance that would make the one about King Bruce and the Spider look like a limerick! Apparently, this
40-year-old factory worker from Jiangsu province in China painstakingly built a sea plane using every bit of aviation knowledge
he could gather on his own over a period of three years only to find out that the plane can never actually fly!

Mr. Liu Chun Sheng, who is currently employed at a factory in Guangzhou, took up the project in July of '09 and created the whole craft using his own knowledge of aircraft making. He also did all the work on the plane including all the welding and assembly. And apparently never even had an aviation specialist or a professional mechanic as consultant on the project.
What's even more remarkable is the fact that the inspiration and the blueprint for the plane came from an enlarged picture of a concept plane that he saw in a magazine about airplanes. The seaplane is crafted out of stainless steel pipes with an aluminum body. The red and white plane has a single-seater cockpit that is no more than 2 meters in height, width and length. Although bijou, the cockpit still features all necessary working gear.
The sea plane is created to function in the same manner as the American multi-mission military tiltrotor aircraft, Bell-Boeing V-22 Osprey uses a vertical propeller to lift itself off from the water surface with a propeller tilt providing stability and forward momentum. Unfortunately, the exceedingly short propeller doesn't allow the craft to stay up in the air for more than a few minutes.
But that isn't stopping the motivated Mr. Liu from coming up with improvements on the project. He plans on extending the length of the propeller up to 1.6 meter which, according to him, should be enough to lift the 250 kg craft with the help of the two 100-hp engines on it. No word yet on the subject when we can expect the self-made aviator to be seen confidently up in the air with his craft, but if his enthusiasm is anything to go by, we're sure the regular-Joe genius will make his way back into our forum soon.