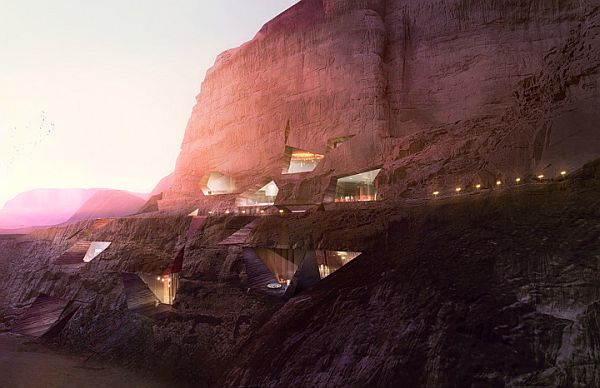 Bored of the predictable and routine city life? And want to spend a few days with your partner in some rustic terrains? Then this new Desert Lodge, situated in Wadi Rum, Jordan, will definitely appeal to you.
Conceived by Florida-based Oppenheim Architecture + Design with the primary intention of `remaining humble within the desert site', the award winning lodges have set a new benchmark in the concept of design, quality and sustainability in a natural environment.

The luxe accommodations are cut out in geometric shapes and are equipped with modern amenities. The natural fissures of the land elevate the design from its more mundane counterparts by adding some raw elements into the landscape. The plush interiors provide a stark contrast to the harsh natural beauty of the desert outside. The accommodation for the guests include a rock lodge, spa lodge, tent lodge, harems and reserve villa. With floor-to-ceiling tinted glass walls, you will get an undiluted view of the nature with camels roaming by, but be untouched by the heat and glare.
The lobby area is no different from that of any 5-star hotel. The hamams, natural pools and outdoor pools will definitely heighten the pleasure of the guests. You will begin your mornings by watching the sun rise and the soft rays touching your hair.
At night the place will be totally transformed. You can endlessly watch the stars in the open sky above or recreate the scenes from the Arabian Nights in the tents pitched in the open air. The outdoor lights will resemble candles and play of light and shades will rekindle your romance.
So reconnect with the nature within a living space at Desert Lodge, in keeping with the philosophy behind the project that combined the geological history of the region with architectonic forms.
Via: Design Boom