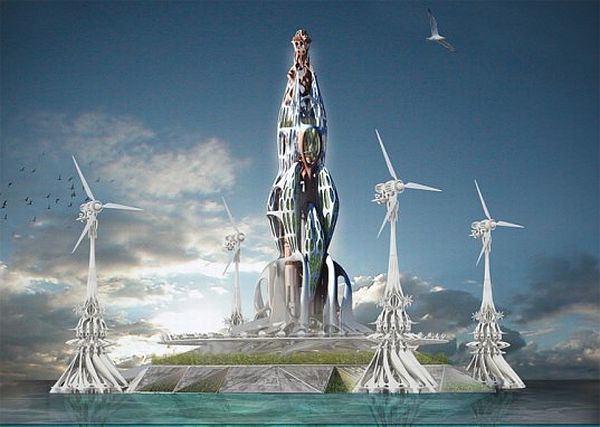 Architect Dietmar Koering of Arphenotype's latest design of the amazingly carved floating permaculture farms is an ecological niche in itself. The artistic design is a floating permaculture that consists of several green systems, such as solar power and wind power.
Permaculture is derived from the word "permanent agriculture" that was developed by an Australian, Bill Mollison. The Utopian Permaculture Farms came into existence with the grant from the Bakema Foundation. Netherlands Architecture Institute and A10 also rendered a helping hand in this futuristic design which is expected to float around the North Sea.
This is going to be a real treat for the spectators. The magnificent design will prove to be the ultimate solution for unavoidable depletion of fossil fuels followed by its drastic effects on food. Permaculture has slowly and gradually evolved as a system which nexus is renewable energy, natural ways of cleaning grey water, rainwater capture, organic food production and recirculation of hydroponics altogether.
The theme of a floating permaculture loop sprung up from the Aztecs, who made an attempt to develop self-sustaining farm systems. The floating utopian permaculture farms are fully equipped with wind turbines, wave turbines and solar panels. It has a dedicated filter system that uses zebra mussels, which gives nourishment for chickens and fish raised on an aggregated scale.
The excretion of other animals and fish is later on utilized to produce the rice paddies that will in turn be used to feed the chickens. This is a circular process in which each feeds the adjacent.
Koering's antic floating utopia gives a view of a sci-fi movie at present, but it could prove to be a feasible option in the coming future if the global warming thing comes into existence and we run out of our natural resources.
Source: Inhabitat