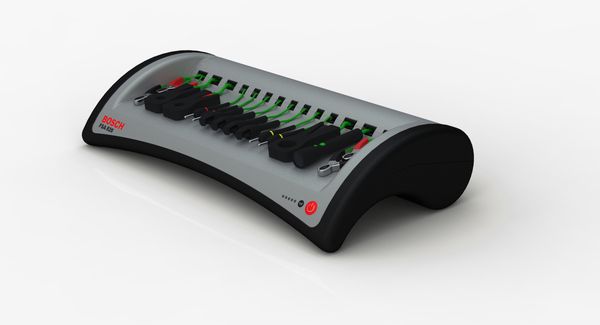 Imagine an auto mechanic and you will picture a guy carrying silver colored tools, smelling grease. They are always twined in cords and tools specially while attending an engine, which can turn out to be quite exasperating at times. A product named BOSCH FSA-820 by Thomas Lænner is here to detangle all the cords in a mechanic's life.

The design of FSA-820 has been crafted in a wavy manner which serves multiple purposes. It has two front legs that offer support at two points, which further extends stability. The curvy design will easily fit in any bumpy component of the engine. It comes covered with soft rubber for added comfort and the design easily fit in any size of the hand providing adequate grip. The cords are green in color which can be spotted in the engine room without difficulty. The board has magnets attached to it, which make sure that measuring tools are placed in a clean manner.
An automatic roll up system robotically pulls back these cords hence, no fear of cords forming knots. Since the cords will be pulled in and out quite frequently, an added fear of wear and tear will build up. Keeping this in mind, Thomas has wedged the equipment with cylindrical rolls for added safety. At times, if a person fails to see the plug they may fall on the ground after tripping in the power cable. This not only is painful but embarrassing as well. To avoid any such situation, the plug comes fixed with a magnet that lets loose whenever it feels a pull. It comes with an added advantage of being charged in the engine room as well as if it is positioned on an electronic toolbox.

Via: Behance