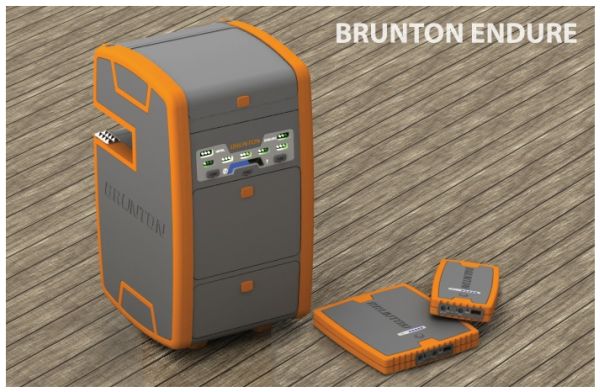 The product:
Normally when we are out on a picnic or camping, charging electronic gadgets becomes quite a pain in the neck. When out camping in the woods charging gadgets takes a backseat because of the unavailability of electricity but with Brunton Endure such situations will take a backseat. To make sure that campers get the required electricity, it will provide renewable energy for apt use.

Brunton Explorer comes wedged with a solar panel that gets charged and further provides electricity which can be used to charge cell phones and iPods. A USB flash drive is required to lock and unlock this portable power unit. So, even while camping keeping your electronic gadgets pumped with all the life won't be a trouble any more, thanks to Brunton Endure which has been designed intelligently by Jared Downs keeping in mind all the problems a camper can face in the absence of electricity.
The inspiration:
The project named Brunton Endure which has been conceived by Jared Downs will harvest the natural solar energy and make it available in a form which will keep all the gadgets away from dwindling batteries. This moveable power unit will provide a power backup whenever and wherever required. So, next time when you are away from your personal space that comes wrapped with all the electricity requirements, Brunton Endure will make sure that you don't miss on a single important call as well as your favorite piece of music.
The target group:
The product aims at people who are almost always on a move like nomads and campers based on research. Apart from these even people who like to go out for picnics with their family and campers as well. This will make sure that people who simply love being glued to their gadget all the time don't have to keep them aside because of the absence of a charging source. So, carry your gadgets wherever you go and charge them the green way.
The usability:
Brunton Endure is portable and weather safe. Solar panels have been crafted out of fabric that is foldable. After folding, the panel can be stored in a compartment. The whole unit comes wedged with a handle because of which carrying the whole unit from one place to the other won't come with any added difficulty. Normally all the camping equipments are stored in the garage from where they are loaded in the vehicle which takes us till the camping site.
Brunton Endure will be powered by removable batteries. It has (5) Sustain batteries, (1) Impel battery, the home battery (non-removable) and an output of the solar panel. 5 Poles measuring 7' each have been attached to the top and bottom on the fabric of solar panel which keeps it stiff. These poles work in the same manner like any normal tent poles do and can be snapped apart and fixed easily. The best part of Brunton Endure is that it can be fixed on any kind of picnic table.