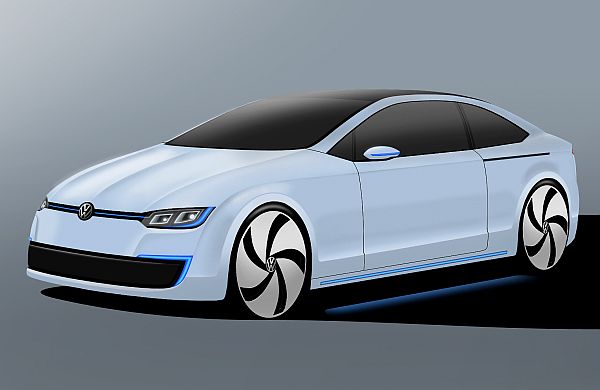 Coupes are getting sexier day by day. A single glance can make you drool all over them and drop on the floor with a pleasant shock. Cars are becoming nothing less than a royal ride, dipped in sumptuousness and comfort. Marcus Lundquist has designed a coupe christened Volkswagen Afrera Concept. This car with deadly looks will come wedged with a hybrid drive train and will be a practical ride which will hit the roads in the year 2018.

With increasing traffic on the road people need compact cars and their demand will rise in the coming years. This particular concept is quite compact which combines practicality and sportiness in a single package. The coupe will combine a small turbo-diesel engine with two small engines wedged inside the wheel for a great hybrid ride. The electric engines of Afrera are fit to be used for even long trips as 25% of the combustion engines keep recharging the batteries continuously.
The car has a solar panel on the roof which makes good use of sunrays. The rear wheels come embedded with one magnetronic AC in-wheel electric engine that pumps out a power of 100hp each. To minimize the turbulence and drag around tires the wheel housing has been designed in such a manner that it goes outside wheels.
The exterior is quite curvaceous and has been cut in a very neat as well as eye-appealing manner. The doors of Afrera slide open which make the car look even more attractive. It also has 350 litres of trunk space that is coupled with a two part trunk opening. The chairs are enveloped with luxury and can be turned while sitting in and getting out of the car. Wow! Now this sounds fun. Also the airbags have been secured in the roof, which will come down when required and place itself in front of the steering wheel.
Volkswagen Afrera Concept sounds very promising and with such features will snarl like a monster on roads.
Via: scapecon