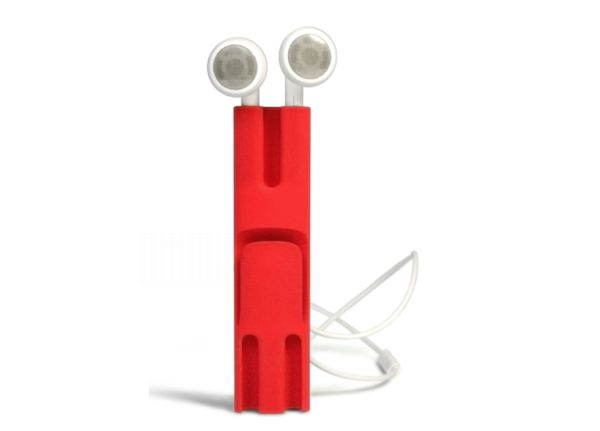 Earphones, the little wonders, have made it possible to carry music incognito to keep you entertained wherever we go. But don't you just hate it when you have to pop them out from wherever you've stored them and it takes a good few minutes to untangle them before you can use them? Well, apparently the whole world is plagued by this problem. But luckily the handy new cable winder and clip called CableGuy from designer Michiel Cornelissen tries to target this precise problem and provides a really simply solution to it as well.
The gizmo features a flexible design with special slots that can hold your earpieces in place, while the cable gets neatly wound around the cylindrical stem. This lets users keep their earphones secured in place further reducing the chance of them becoming damaged during the untangling process.
Manufactured in sturdy 3D printed polyamide, the device provides instant relief from messy cables and lets users store ear plugs safely and neatly. What's even better is that the device comes with a cool clip that lets users quickly clip it on t-shirts, pockets, and even bags for easy access which makes it a great accessory for music lovers on the go and comes in especially handy during travel.
CableGuy was created to be easily used with earphones from the recent iPhone and iPod models and is thus not generally considered compatible with older Apple earphones. The basic model from the range retails for $12.50 (about € 8.63) and you might need to shell out a little extra for other colors.
[Thanks Michiel]